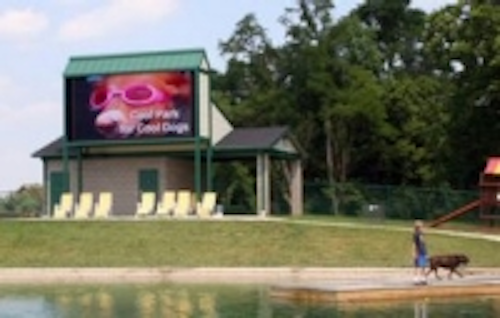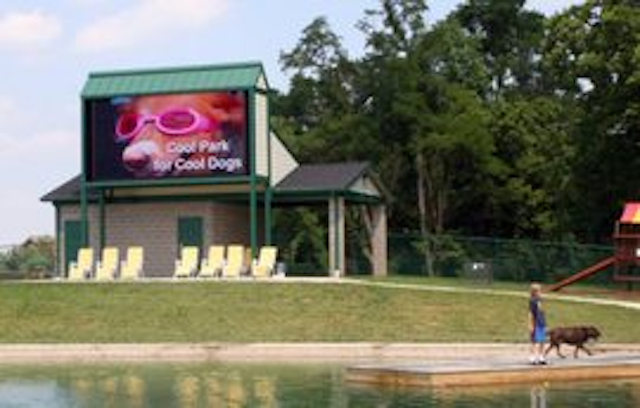 Date Announced: 23 Jul 2009
LSI recently unveiled an LED outdoor video display at WagsPark, Cincinnati's first and only resort designed exclusively for dogs. The private, members-only, three-acre canine playground has
it all -- a dog swimming lake with diving dock, speed and agility courses, doggie-dodge dancing fountains and even a skateboard run.
With the recent addition of an LSI SmartVision® 9.45' tall by 18.9' wide, 20mm video display, dogs and owners alike can enjoy video of member interaction within the park, advertising, national dog competition highlights from on site events, and even a movie night. The on site video display has generated interest with national pet
supply companies as an opportunity to reach the doggie-doting audience with bright, vivid messages. The LED video display provides a dynamic, exciting presentation for the guests.
WagsPark Video Display stats:
• Height: 9.45 feet
• Width: 18.9 feet
• Square Footage: 178.6
• Resolution: 144 pixels high x 288 pixels wide at 20mm
• Weight: 2,233 pounds
In addition to the LED video board, LED wall mount fixtures provide walkway lighting around the activities center. The LED light source
delivers outstanding light performance while using significantly less energy than traditional light source.
"We saw an opportunity to capitalize on the new outdoor video technology and combine with a state-of-the-art private dog park.
With the combined features of WagsPark, we hope to be recognized as one of the Top 5 in the country."
- Robert Slattery, Founder
Contact
Dave Watroba 330-494-9444; ext. 2120
E-mail:David.Watroba@LSI-Industries.com
Web Site:www.lsi-industries.com