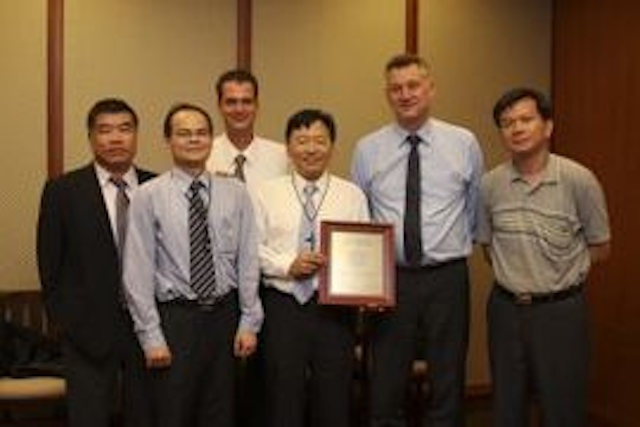 Date Announced: 02 Jul 2009
Aachen/Germany -– AIXTRON AG today announced that it has recently received a further multiple system order from Epistar located at the Hsinchu Science-based Industrial Park, Taiwan.
The order, to be delivered during 2009, was received in Q2 and will commence delivery in Q3 of 2009. This recent order comprises of CRIUS® Close Coupled Showerhead® (CCS) reactors and AIX 2800G4 HT Planetary Reactor® systems for volume production of GaN-based LEDs.
In a recent separate ceremony in Taiwan, AIXTRON's COO Dr. Bernd Schulte presented an award to Dr. B.J. Lee, Chairman of Epistar, to celebrate the 150 systems Epistar has bought from AIXTRON. (see picture)
Dr. B.J. Lee, Chairman of Epistar, comments: "It is with great pleasure that we are looking forward to the delivery of our latest AIXTRON multiwafer MOCVD tool order. Our two companies have enjoyed a long-lasting relationship and AIXTRON has always provided us with the world's best equipment.
"We have great confidence in the technology and the service that they provide. This is the foundation of our success for the efficient volume production of world-class ultra-high brightness LED products. We know that we can trust that our 150th AIXTRON MOCVD tool will be as useful as our first and we are also looking forward to bringing our recently ordered systems on stream in the very near future."
Dr. Bernd Schulte, AIXTRON's Executive Vice President and COO, adds: "Epistar is a world leading manufacturer for UHB-LEDs and it was very satisfying to be able to present to them this award celebrating the 150 systems they have bought from us since we have worked together.
"Epistar has developed considerable expertise with the AIX 2600G3, producing some of the brightest AlInGaP LEDs in the market and has also developed extremely high performance GaN products with the AIXTRON Nitride Planetary Reactor® systems. We are very proud to have been able to contribute towards Epistar's success over recent years."
Epistar Corporation is focused on the development, manufacture and marketing of ultra-high brightness LED products. Applying its own proprietary MOCVD technology, Epistar has successfully commercialized the full spectrum range of high brightness LEDs with the characteristics of compact size, low power consumption and long operation life.
Contact
Guido Pickert Investor Relations AIXTRON AG Kaiserstr. 98 52134 Herzogenrath, Germany Phone: +49 241 8909 444 Fax: +49 241 8909 445
E-mail:invest@aixtron.com
Web Site:www.aixtron.com