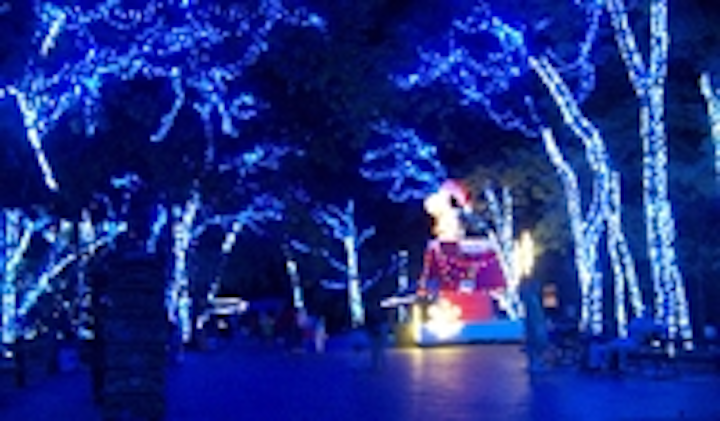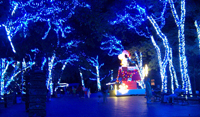 Date Announced: 08 Jul 2009
Sandusky, Ohio - Cedar Point Amusement Park has long been known as a great destination for those in the Midwest looking for a great roller coaster. However the park's newest attraction Starlight Experience was designed not for thrills, but for those looking to relax after a long day of adventure. An amalgamation of a parade and a walking trail covered in LED light, Starlight opened in May with more than a little help from the 4Wall Systems team.
The idea behind Starlight was to give the park a feature that would hold attention of those young and old long after they were worn out riding coasters. Cedar Point Production Manager Lance Heal worked with Trad Burns of Trad Design LLC to create a show that would make those walking through the attraction feel as if they were in the midst of a parade of seasons. The result includes includes Peanuts character themed floats as well as music and special effects under a canopy of over 1 million LEDs.
Once the design was in place, the real pressure arrived. With an opening date less than a month away, Heal and his team contacted 4Wall to provide a dimming and control system for the project's million LEDs. After researching the site, the 4Wall team brought in all the needed equipment to the 4Wall Las Vegas warehouse. There they pre-assembled and tested all components, then shipped everything off to Cedar Point. With only a week remaining until the Starlight Opening, the 4Wall team followed the gear to Ohio and performed a near miracle in getting the system's 19 universes of control up and running for opening night.
Heal spoke of 4Wall's contribution to the venue:
"We would not have pulled this off without 4Wall on site to handle the networking and dimming aspects of this show. The sheer learning curve of what we were trying to accomplish was huge, without the 4Wall team we would not have finished until well beyond opening night. They were amazing!"
Contact
4Wall Entertainment 3325 W. Sunset Rd. Suite F Las Vegas, NV 89118 Ph: 702-263-3858
E-mail:wbailey@4wall.com
Web Site:www.4wall.com