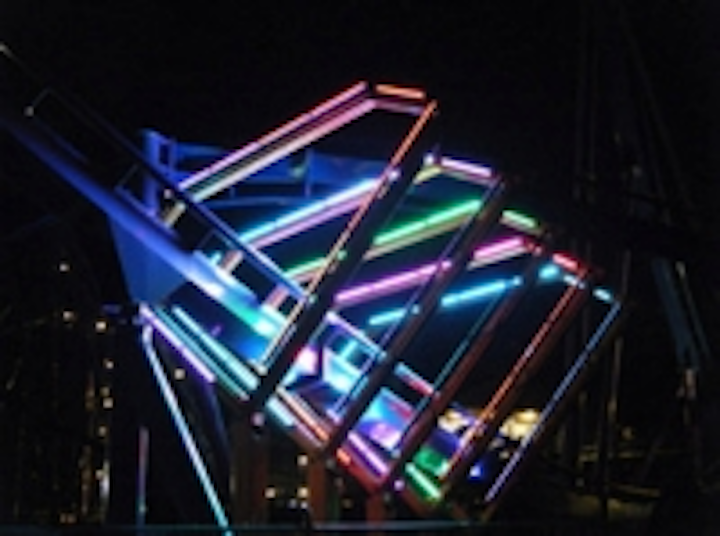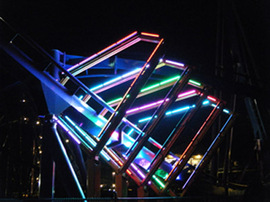 Date Announced: 09 Jul 2009
JACKSON, NJ – Plunging 132 feet at 60 mph with its screaming passengers' feet dangling in mid-air, the floorless Bizarro roller coaster at Six Flags Great Adventure has been ranked as one of the scariest rides anywhere. When the New Jersey amusement park's management decided to upgrade and re-theme the coaster (formerly known as Medusa) earlier this year, they were looking to pump up its thrills and chills to a new level.
Click on link below to see the Bizarro's Exbars in action!
http://www.divshare.com/download/7682479-034
This goal was accomplished in part with an eye-popping lighting display using ELAR Exbar BL RGB LED bars from the Elation Architectural, the architectural lighting division of Elation Professional. Seventy strobing, RGB color-changing Exbars were installed in a series of 5 loops that riders race through immediately after surviving Bizarro's first breathless plunge. Along with the visual "thrills" provided by the lighting, passengers experience more "chills" in the loops – literally -- being cooled down by new misting machines that were also installed as part of the upgrade.
According to Karl Wood of Entertainment Design Group (Austell, GA), which provided the lighting and scenic elements, the name Six Flags chose for the re-theming says it all: Bizarro, a DC Comics character, was Superman's twisted alter-ego who came from a planet where everything is opposite of Earth.
"(Six Flags) wanted to do something really off the wall and different than anyone else," said Wood. "They wanted the coaster to not only ride exciting, but to look exciting with everything visually around it kind of off-kilter."
The combination of color-changing LED lighting and mist machines provides this type of other-worldly experience. "It's really cool at night. When you go through the loops, you can't even see where you're going because the mist and light obscure everything," said Wood.
Fourteen Exbars are installed in each of the 5 loops, bringing the total used to 70. The Exbar is a 1-meter DMX-compatible RGB-mixing bar that contains 240 x 10mm LEDs (48 red, 102 green and 90 blue). Weighing just 10 lbs, it comes in rugged die-cast aluminum housing and is rated at IP44 for outdoor use.
The IP rating was one of the reasons why his company chose the Exbar, said Wood. "Not only were these lights going to be used outdoors, they were going to be installed around the misters and had to withstand moisture, so we needed an architectural fixture," he explained.
The Exbar's IP44 rating means it is protected against liquid sprays from multi directions, as well as solid objects as small as 1mm in thickness. What's more, reported Wood, although very lightweight, the Exbars are strong and resilient enough to withstand the roller coaster's vibrations when mounted on the trussing.
But strength and moisture-protection aren't the only benefits provided by the Exbar. The fixture's intense brightness, RGB color-changing, and features such as strobing and 0-100% dimming create the perfect visual effects to ramp up the thrills on the revamped Bizarro. "There are approximately 30 minutes of different patterns, chases, color rolls, strobing effects and corkscrews," said Wood. "They're on a continuous loop. When the coaster stops and starts up again, the lights pick up where they left off. You can go on the ride 15 times and have 15 different visual experiences."
The program data is stored to memory in a DMX recorder housed in a waterproof container, and can be set in motion or shut down with the flick of a switch, along with Bizarro's misters and other theming elements. "It's a turnkey operation," said Wood. "Anyone who can flip a switch can make it work."
Contact
Elation Professional Ph: 866-245-6726 or Entertainment Design Group Ph: 678-945-2400 www.goEDG.com
E-mail:abby@fucinipro.com
Web Site:www.elationlighting.com