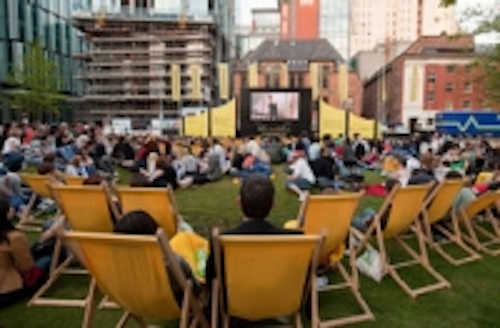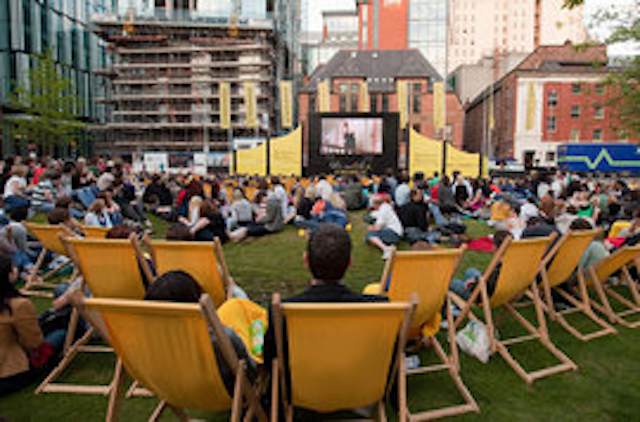 Date Announced: 27 Jul 2009
Spinningfields, a new award-winning development in central Manchester, has been transformed into an open air cinema this summer, thanks to an LED screen from ADI.
The Virtuality LED screen has been installed in Hardman Square, which has been developed to create a public space where people can relax on the landscaped lawns with refreshments from the surrounding bars and restaurants. The screen shows a mixture of news and current affairs channels and also has an extensive programme of major sporting and cultural events as well as a weekly film night on Thursday evenings.
The Concept
Spinningfields first contacted ADI in Spring to discuss their idea. They were keen to maximise the community and public space elements of the development and saw LED screens as an ideal means of encouraging this.
The brief was to create a screen that not only encourages communal gatherings throughout the day, but also fits aesthetically with the carefully designed surroundings. Spinningfields required an element of flexibility with the contract; whilst they were keen to test the viability of the project, they didn't want to be tied into a long term contract. They also wanted to keep the programming elements as simple as possible whilst offering a varied schedule.
The Solution
ADI have worked closely with Spinningfields to create a solution excellent in both its simplicity and flexibility. ADI have installed a semi-permanent screen in Hardman Square for an initial 19 week period over the summer. Spinningfields hire the screen from ADI during this period, with the option to purchase outright at the end of the summer.
ADI have handled all aspects of the screen installation. The screen is supported by a single mast structure and ADI have worked with local companies to advise on and oversee the necessary foundations required to support it and power requirements. Spinningfields have built an impressive structure around the screen which not only adds aesthetically, but also provides information on forthcoming programming as well as housing the control room for the screen, which has been provided by ADI. Additionally, the grass areas of Hardman Square have been modified – rather than the usual flat grass, they have also created a series of mounds to make an amphitheatre-style area for people to relax.
Programming
Rather than worry about purchasing or creating bespoke programming for the screen, Spinningfields have opted to use the screen for a mixture of sports, movies, news and family entertainment. Unlike the BBC screens in a number of UK city centres, Spinningfields are not restricted to showing only BBC channels, allowing them to broadcast some of the key summer sporting events, such as the Ashes and World Twenty20 cricket and The British and Irish Lions rugby union test matches, as well as BBC programming such as Formula One, Wimbledon and Royal Ascot.
Classical music fans are also catered for with a variety of concerts including the full summer proms programme, which runs from mid July until mid September.
During other times, the screens show free-to-air news programming, creating a relaxed atmosphere in the square which encourages people to gather during lunchtimes or after work.
Film Nights
On Thursday nights, the area transforms into a giant outdoor cinema, with a different movie shown each week from an eclectic line-up including cult classics such as Withnail and I, Breakfast at Tiffany's and Grease along with Hollywood blockbusters such as The Incredibles, and Quantum of Solace. Film Nights have been incredibly popular with crowds of over a thousand on sunny evenings. Spinningfields generate additional income through concessions sales as well as hire of deckchairs and picnic blankets, whilst surrounding bars and restaurants also do brisk trade.
Local Businesses
The new screen has been welcomed with open arms by the bars and restaurants that line Hardman Square, as it incentivises people to spend time in the Square, particularly for long sporting events such as the Ashes or Wimbledon. Film nights bring an even bigger increase in trade, with crowds of over 1,000 for Thursday evenings over summer providing obvious financial benefits for both local businesses and for Spinningfields.
Customer Comment
Fran Goddard, Communications and Events Manager at Spinningfields Management Company, comments: "We first approached ADI about this idea in Spring of this year and were pleasantly surprised at both the speed in which they were able to put together a solution and the way in which they have structured the deal. The initial rent-back deal with an option to purchase outright at the end certainly helped us to remove some of the risk involved in such a large project.
"Because we are using the screen to broadcast live television and movies, the content is always fresh and relevant. The film nights have been a roaring success with over a thousand people in the square some nights, whilst sporting events such as Wimbledon have also proved popular.
"We're very happy with the screen thus far and reaction has been overwhelmingly positive. It's definitely being seen as a welcome addition and there's a real buzz around the city about it as the word spreads. It's already driving the public to the area, either for specific events or just to relax with their friends and enjoy a drink."
Contact
Oliver Brindley, ADI UK Ltd 0800 592 346
E-mail:oliver.brindley@theadigroupcom
Web Site:www.adi.tv