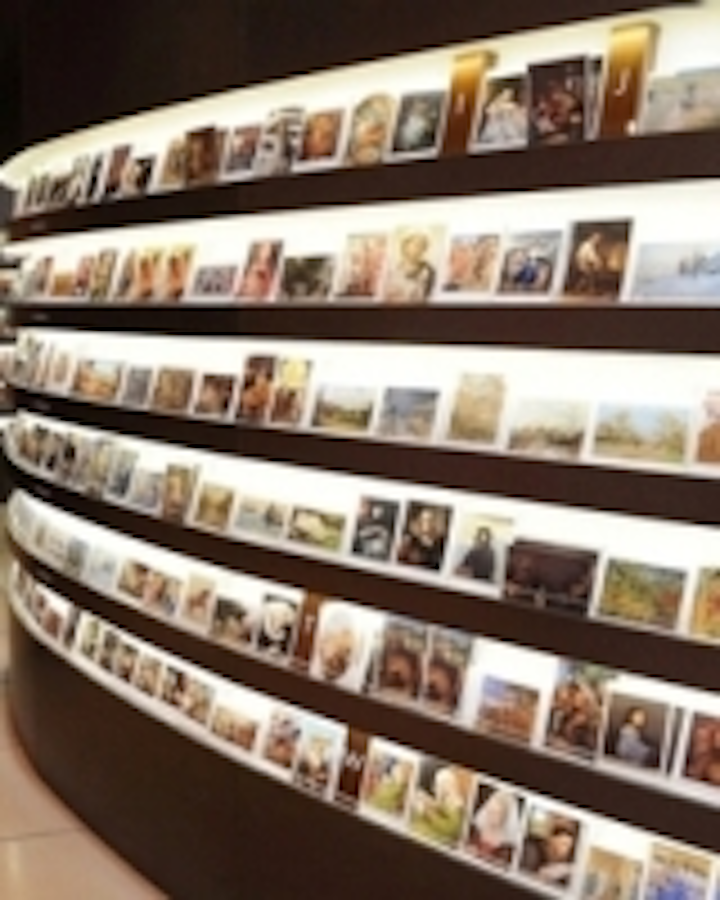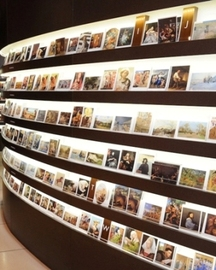 Date Announced: 16 Jul 2009
OSRAM's LINEARlight® Flex SIDELED® has been installed in the gift shop at the National Gallery in London. Cool White LEDs were specified by INTO Lighting to illuminate the new postcard point of sale, bringing them to life.
The National Gallery is located in the heart of London's Trafalgar Square and is an iconic building in the city. During a recent refurbishment of the shop, INTO Lighting was selected as the OEM to illuminate the scheme including the postcard display. The sweeping lines of the shelves meant LEDs from the OSRAM SIDELED® range were the ideal solution.
OSRAM's LINEARlight Flex® SIDELED® modules in cool white were installed to provide higher light output and luminance as well as excellent colour rendering for the postcards. The flexible nature of the product provides versatility for any lighting project and on this occasion it was the perfect solution to form a seamless lighting effect on the shelves. It is available in various colours with an entire length containing 300 LEDs, which can be divided into smaller units (down to 4 LEDs) without affecting the function of the remainder of the flexible tape.
Stuart Moth, Lighting Designer from INTO Lighting commented: "On such a prestigious job the light colour was the most important aspect to ensure the postcards became a "hero product". Homogenous white light was vital and we knew that we could trust in the reliability and the colour matching of OSRAM's products due to their fine binning process.
"Cool White 4700K LEDs project a clean, crisp white light that highlights the postcards and subconsciously draws the customer towards the merchandise to touch and react with," added Stuart. "We are extremely happy with the quality of the LEDs from OSRAM and the overall results - the postcards really do look like miniature works of art on display."
As well as providing the perfect lighting ambience, the LINEARlight Flex® SIDELED® offers an energy efficient and cost effective lighting scheme due to the low energy consumption of LEDs.
OSRAM has an extensive LED portfolio with solutions that can enhance the look and feel of any application. From individual lamps and LED modules to complete luminaires and carefully matched LED systems OSRAM's LEDs provide huge design flexibility, offering compact dimensions, modular design and an enormous range of colours.
PHOTOGRAPHY © Mo Islam @ OSRAM
Contact
Gerry Cherry / OSRAM CIB Bridge House 27 Bridge Street Leatherhead Surrey UK KT22 8DD
E-mail:pradmin@cibcommunications.co.uk
Web Site:www.osram.com