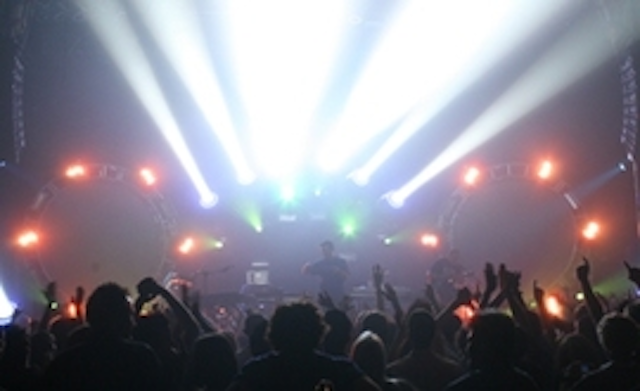 Date Announced: 02 Jul 2009
Famed rock band uses the newest creative digital lighting products from Barco to provide layers of looks to match their layers of sound.
Sacramento, CA - Digital and automated lighting pioneer Barco announced today that The Crystal Method has selected an arsenal of creative lighting products to launch a "visual assault" on their current "Divided By Night" tour. The tour could easily be named "United By Light." The two DJs or "electro-pioneers" making up the group envisioned a virtual visual assault, or as lighting designer Lawrence "Loz" Upton calls it, an "in your face" production. Effectively, the band wanted layers of light to match their layers of sound, so Upton looked to Barco's lighting product line to achieve his goal. The result is a road show that exemplifies the industry's newest lighting and control technology.
Upton selected a full complement of Barco products, including 12 StudioPix LED pixilation luminaires, six SHOWGUN automated luminaires, four Studio Beams, two F-100 fog machines, and the new SHOWBEAM 2.5 automated wash luminaire — notable for its Twin Beam™ technology. Two Barco CLM R10+ projectors and two Axon media servers provide the video, and control is provided by a Wholehog 3 console using the Wholehog DMX 8000 Processor.
"People still need entertainment in this economy," said Upton. "The show is very much in your face, and very effects-driven, so we basically wanted a lot of 'gas.' This music is all about layering, which is why we chose the SHOWBEAM 2.5, the SHOWGUNs and the StudioPix, as well as the regular moving lights — giving us layers of looks to match the layers of sound."
Because video images play a large part in the layering, the band hired a group of artists to create custom content for the Axon media servers. Using the two CLM R10+ projectors, the content is projected onto screens mounted on two circular trusses. "We were able to easily download content into the Axon media server and then run it as a lighting cue. It's so easy to do, it's awesome," noted Upton.
For additional content, images also originate from the StudioPix, which is not only an LED washlight but a hybrid graphics display device. "With StudioPix, you have many lights in one," said Upton. "You have an effects-driven look, the effects generator, many colors, and on top of that, you can use it as a regular wash fixture or as an audience lighting fixture. In many ways, it's more effective than an LED audience blinder," explained Upton. "I'm really impressed with the way that I can manipulate the StudioPix to achieve many different aims."
When Upton first saw the SHOWGUN luminaire in a video, he wasn't sure what to do with the LED ring. But after seeing it in a live demo, the ideas began to flow. In this design, Upton matches the SHOWGUN LED ring with the outer LED rings of the StudioPix and the SHOWBEAM 2.5 — letting the rings play off each other in space.
For The Crystal Method tour, Upton also selected Camarillo, California-based Delicate Productions as the lighting contractor. "Everything we needed, they made happen," said Upton. "There were many design meetings, and it came together really well. They really put a lot of effort and time into working with us."
The audiences have made it happen as well, noted Upton. "From a lighting gig standpoint, people love the show. We've gotten nothing but rave reviews everywhere we go. It's humbling, actually."
For more details on The Crystal Method tour and upcoming tour dates, visit www.thecrystalmethod.com
About Delicate Productions
Delicate Productions is considered one of Southern California's leading full-service sound, lighting and multimedia production companies. Their tour roster ranges from Sting to Natalie Cole, movie premier parties from THE MATRIX to PIRATES OF THE CARIBBEAN, and systems installations are as diverse as the Twin Lakes Baptist Church in Aptos, to the Pasadena Playhouse in Pasadena. For more information, visit www.delicate.com
About Barco
Barco, a global technology company, designs and develops visualization products for a variety of selected professional markets. Barco has its own facilities for Sales & Marketing, Customer Support, R&D and Manufacturing in Europe, North America and Asia Pacific. Barco (NYSE Euronext Brussels: BAR) is active in more than 90 countries with about 3300 employees worldwide. Barco posted sales of 725 million euro in 2008.
Contact
Johanna Ocampo Press & PR Specialist North America Barco n.v. Ph: 1 916 273 5301
E-mail:johanna.ocampo@barco.com
Web Site:www.barco.com