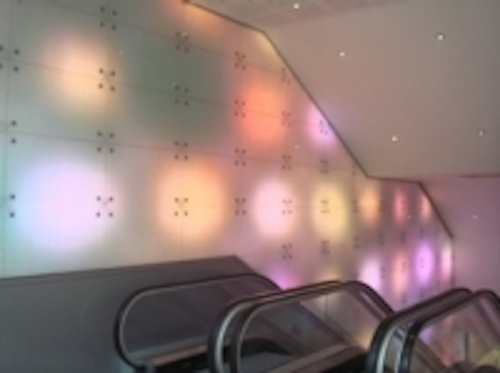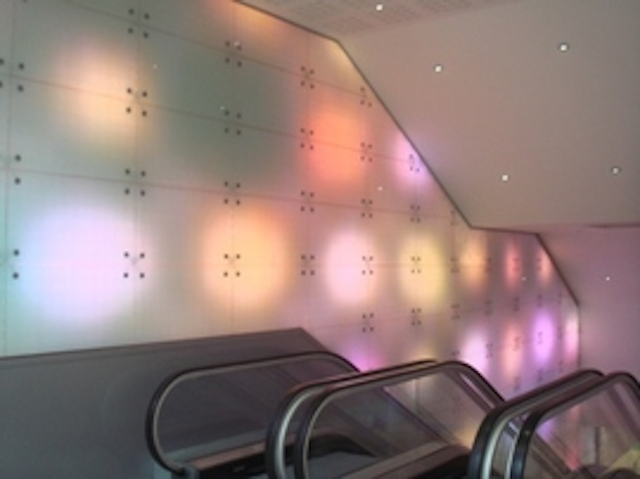 Date Announced: 20 Jul 2009
A major extension to St David's shopping centre in Cardiff has included the use of iColor Flex SLX LED luminaires from Philips Lighting in an illuminated wall running the length of the escalators linking the refurbished centre with the new St David's 2 development to the South. Supplied by Value Added Reseller Architainment, the LEDs provide the centre's operators with the opportunity to create a range of scenes, as well as animated displays.
Dubbed 'St David's 2', the new 89,891 sq m shopping area has been developed by St David's Partnership - a joint venture between Land Securities and Capital Shopping Centres - as an extension to the established shopping centre. It incorporates more than 100 new shops, 25 new cafes and restaurants and luxury residential accommodation. As such it is set to transform the southern end of the city and give previously underused areas a new lease of life.
The architects for the retail area are Benoy and the lighting is designed by Building Design Partnership (BDP).
"We wanted to encourage a good flow of customers through both the old and new sections of the centre," explained Benoy's Stephen Gill. "The illuminated wall on the escalator plays an important role in catching the eyes of shoppers and encouraging them to move between the sections," he continued.
Architainment worked closely with the design team in building mock-up panels to determine the optimum resolution and, subsequently, creating a full-scale mock up on site. The company then continued to liaise with all parties, issuing installation schematics and assisting with the commissioning and programming of the luminaires.
"The mock-ups enabled us to test a number of options and clearly identified that red, green and blue LEDs would give us maximum flexibility," recalled BDP's Daniel Hodgson.
In total, 135 iColor Flex SLX luminaires have been installed behind an opaque glass screen on the escalator. Each luminaire comprises 50 tri-colour RGB, individually addressable LED nodes spaced 100mm apart, providing a high level of flexibility. It is linked to a Pharos LPC40 control system.
Daniel Hodgson continued: "The illuminated wall is designed to provide a number of options, including subtle colour changing and even themed animations to reflect different seasons and special events such as Christmas, or Mothers' and Fathers' days. It also provides background illumination so we have been able to use this to reduce the installed electrical load for ambient lighting on the escalator."
Each RGB node in the iColor Flex luminaires has an embedded Chromacore chip, so any node can produce virtually any colour by mixing the red, green and blue – at any time. This provides the flexibility to continue to develop new scenes and animations for the escalator wall through the control system, so that the imagery remains fresh and eye-catching.
About Royal Philips Electronics
Royal Philips Electronics of the Netherlands is a diversified Health and Well-being company, focused on improving people's lives through timely innovations. As a world leader in healthcare, lifestyle and lighting, Philips integrates technologies and design into people-centric solutions, based on fundamental customer insights and the brand promise of "sense and simplicity". Headquartered in the Netherlands, Philips employs approximately 116,000 employees in more than 60 countries worldwide. With sales of EUR 26 billion in 2008, the company is a market leader in cardiac care, acute care and home healthcare, energy efficient lighting solutions and new lighting applications, as well as lifestyle products for personal well-being and pleasure with strong leadership positions in flat TV, male shaving and grooming, portable entertainment and oral healthcare.
Contact
Barbara Neate Philips Lighting Tel: 00 44 (0) 1483 293 071
E-mail:barbara.neate@philips.com
Web Site:www.philips.com/newscenter