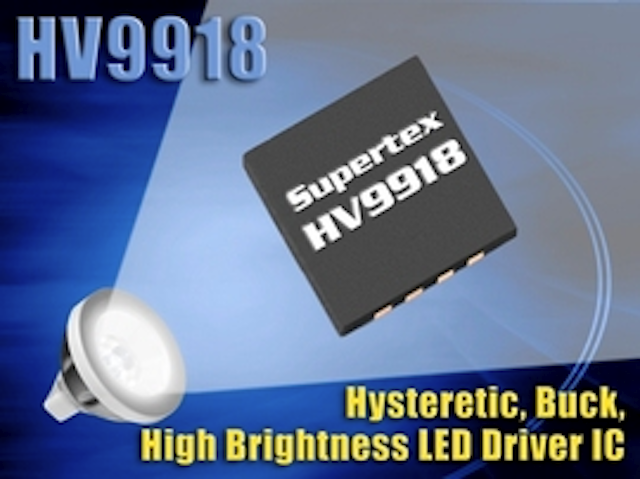 Date Announced: 17 Jul 2009
HV9918 Delivers Constant Power Source to LEDs, Increases Component Longevity & Reliability
SUNNYVALE, Calif. - Supertex, Inc., a recognized leader in high voltage analog and mixed signal integrated circuits (ICs), today introduced the HV9918, a buck-mode LED driver IC with hysteretic current control and high-side current sensing. It is ideal for a variety of solid-state lighting applications, such as low voltage industrial and architectural LED lighting, signage or decorative lighting, indicator or emergency lighting, as well as a general purpose constant current source.
The hysteretic control function of the HV9918 maintains a constant output current to the LED string at all times, regardless of input voltage fluctuations. LEDs are proven to be far more reliable and long lasting when driven by a constant current than by a direct voltage source. It drives loads of up to 1.0A at over 90% efficiency with +/-5% current accuracy from input voltages of 4.5 to 40V. The IC also features an embedded FET for cost and parts count reduction in solid-state lighting applications.
"Supertex's HV9918 provides fast transient load response and eliminates the need for feedback-loop compensation," states Ahmed Masood, Vice President of Marketing for Supertex. "With its built-in switching FET, this device reduces overall system cost and board space while delivering accurate current control for LED lighting applications."
The HV9918 is available in an 8-Lead DFN package (HV9918K7-G). The part is Green and RoHS compliant. Samples are available from stock. Lead-time for production quantities is 4-6 weeks ARO. Pricing is US$0.68 for the HV9918K7-G in 1K quantities.
About Supertex
Supertex, Inc. is a publicly held mixed signal semiconductor manufacturer, focused in high voltage analog and mixed signal products for use in the medical, LED lighting, imaging, industrial, and telecommunication industries.
Contact
Supertex
E-mail:kennethv@supertex.com
Web Site:www.supertex.com