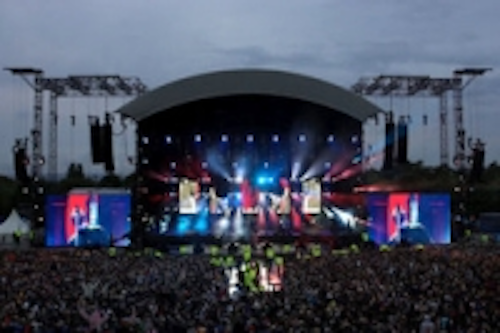 Date Announced: 16 Jul 2009
XL Video UK continues its long and creatively fruitful history with superstar UK rockers Oasis, supplying full video production for their ongoing "Dig Out Your Soul" world tour, plus a fully HD PPU/camera package for the summer stadium and outdoor special shows on the itinerary.
XL is also supplying kit for a third variation on Oasis' video design - similar to but larger than the original touring version - for their festival headline slots.
Says XL's project manager Des Fallon, "Respect to the Oasis production management team lead by Michael O'Connor. Their attention to detail is second to none, they totally understand the importance of video and the role it plays in the show, and making things happen smoothly and efficiently in video world is very easy".
For the large shows XL Video is working both directly for Oasis and for live video director Dick Carruthers' company, Cheese Film & Video. The stadium show video is a vibrant mix of playback and IMAG which Carruthers - as is his oeuvre - uses as a platform to push the imaginative and technical horizons of the system.
Two amazing looking 8 mm Mitsubishi screens stage left and right provide playback to the majority of the audience at the outdoor/stadium shows. Each measures 10 modules wide by 8 high and delivers stunning HD clarity.
Onstage, there are 5 columns of Barco MiTrix, each made up of 144 panels - a subtle increase to the 4 column arena touring version of the design. This 5 column MiTrix set up is also used for festivals.
Also integral to the original arena touring - and now the festival set up - are 4 standard definition robo-cams. These, together with the touring/festival content for the MiTrix surfaces - are operated by lighting designer Rob Gawler. XL is also supplying the 3 Catalyst media servers Gawler uses to feed content to the MiTrix, and the HD robo-cam units which are swapped in for the outdoor/stadium gigs.
On the outdoor shows, to enhance sight lines for sections of the audience positioned at extreme angles to the stage, XL is supplying 2 additional Lighthouse R7 left and right LED screens - each 5 panels wide and 4 high - offering a TX feed of the stage action.
The stadium package is completed with one of XL Video's full HD PPUs including 6 Sony E50 HD broadcast quality cameras.
Dick Carruthers needs no introduction for his inventive and original approach to live video direction. The magic is in the mix!
He mixes the show from the FOH position, just behind the lighting desk, and has designed the video control set up for ultimate flexibility, with a central matrix at its hub to route any source to any destination.
The main Mitsubishi side screen IMAG mix from the 10 cameras (6 operated and 4 robos) is controlled via a Snell & Wilcox Kahuna console operated by Carruthers - a powerful console specified because it can mix numerous HD and SD sources and achieve complex DVE processing extremely fast, rendering material onscreen in real time.
At strategic moments, elements of the IMAG - usually treated/effected for added visual flavour and colour - is also output to the MiTrix Columns. Although there are some very precise cues, other elements of the mix are a fluid process which Carruthers evolves improv-style each night.
"Having all sources capable of being sent everywhere is a simple concept that's complex to achieve totally live," he explains. He creates some truly spectacular effects along the way, e.g. morphing the lava flow in "To Be Where There's Life" into facial close ups using the Kahuna's contour mapping facility.
There is massive imaginative scope in the system. A single image or camera feed can be output across 7 screens - like a sole audience shot during "Don't Look Back In Anger" making that high impact emotional connection that's so special to any live performance. At other times, it can be offbeat multi-snapshots from individual cameras mapped to individual screens for quirky, questioning looks.
Central to the show's video aesthetics is having movement on the cameras. There is a tracking dolly at FOH and another in the pit plus a jib, while 2 hand-helds oscillate between being onstage and offstage - everything is in a constant state of flux.
Also at FOH is a Barco Encore multi-screen system provided by XL and operated by Richard Turner. This is primarily for controlling the IMAG elements sent to the MiTrix screens and for interacting with Gawler's Catalyst generated playback footage.
A GV Kayak mixer/switcher is used as backup and a stills store. With all 3 console outputs - and Gawler's Catalysts also fed into the matrix, potentially the show could be controlled from any one.
An EVS machine is used for all the slomo effects, adding another layer of visual intricacy - and one that's proved a big hit with both band and production. "You have to be bold" is a key phrase in Carruthers' modus operandi - the EVS enables 'live' slomos that can be instantaneously cut to different screens in real time - right in the heat of the moment, as the vibe takes him.
The 3 Catalysts driven by Gawler's Hog 3 lighting console deal with all the playback material going onto the MiTrix columns, and are tied in with his lighting cues. This system functions independently for festivals and as the ongoing arena tour package. He also has a TX feed recording from the outdoor events which he can use for festivals. For the stadium/outdoor shows themselves, Gawler's playback footage and the robo-cam feeds are amalgamated with the various broadcast camera feeds via the Encore system, and Justine Catterall joins the FOH team providing additional playback production.
The striking appearance of the onscreen material has become a real talking point, and with many shows starting in daylight, the clarity of the output makes a big difference to audience enjoyment of the video elements throughout the entire show.
Des Fallon concludes, "Oasis have been at the top of their genre for over a decade and are still embracing fresh and innovative ideas and investing in high production values for their audience. It's great to be part of this".
Contact
For more press info on XL Video UK please contact Louise Stickland on +44 (0)1865 202679 or +44 (0)7831 329888 or Email 'louise@loosplat.com'. To contact XL Video UK direct, call +44 (0)1442 849400 or check www.xlvideo.tv
E-mail:louise@loosplat.com
Web Site:www.xlvideo.tv