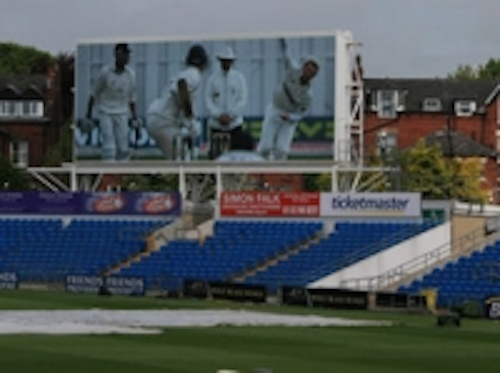 Date Announced: 24 Jul 2009
Yorkshire County Cricket Club (YCCC) will host the 4th npower Ashes Test starting on 7th August 2009. All the hard-fought action will be replayed on Headingley Carnegie Cricket Ground's new giant 102m2 digiLED Ld10S screen. The 16m (w) x 6.4m (h) screen replaces the previous scoreboard and is the largest LED video display in a UK sports venue.
The displayLED team completed installation of the huge digiLED screen just in time for the first Nat West One Day International between England & West Indies earlier this year. Since then, the screen has been in use for professional cricket events in the Liverpool Victoria County Championship, The Friends Provident Trophy, The Twenty20 Cup and the Nat West Pro40. In addition the screen has been used to add value to grass roots cricket events such as the Drax Cup for Under 9's.
The giant screen plays a big part in Headingley Carnegie's ground and East Stand developments and brings a significant improvement to the match day experience for the 17,000 capacity crowd. The new digiLED screen provides full scoreboard capabilities, video replays, advertising and sponsorship video, text and graphics.
The previous display area included an outdated fixed scoreboard system, housed in less than a third of the available display area, static signage taking up another third and the final third allocated to an LED video screen which the YCCC rented in for high profile matches. The new permanent digiLED screen will show cricket scoring data and video, removing the need for a rental screen.
The giant digiLED Ld10S screen has an effective pixel pitch of 10mm and an effective resolution of 1600 x 640 and will display high resolution video images, scores and graphics. The screen was built to a custom size, using LED tiles inserted into bespoke modules to get as close as possible to the original dimensions of the structure and maximise the display area.
The digiLED screen comes complete with digiPRO HD video processing supplied by displayLED and a scoring control system, supplied by Technographics who have been experts in cricket scoring since 1998.
The installation of the digiLED screen, ground developments and the new Carnegie Pavilion form the highlight of a number of improvements to develop Headingley Carnegie Cricket Ground into a model ground satisfying the ECB's requirements for Category A venues.
Stewart Regan, Chief Executive of the Yorkshire County Cricket Club, said: "We are delighted with the new digiLED screen. The screen will add real value to the match day experience for our supporters bringing scores, video replays and sponsors' logos to the fans. It is also another vital piece of the jigsaw needed in satisfying the criteria for staging major international cricket events."
Guy Horrigan, Sales Director of Display LED Screens Ltd, commented: "We were pleased to win the contract for supply and installation of our digiLED screen. It is a privilege to be involved in such a prestigious sporting venue and to be part of Yorkshire County Cricket Club's ground improvements."
Contact
Sian Sparkes
E-mail:info@displayLED.com
Web Site:www.displayLED.com