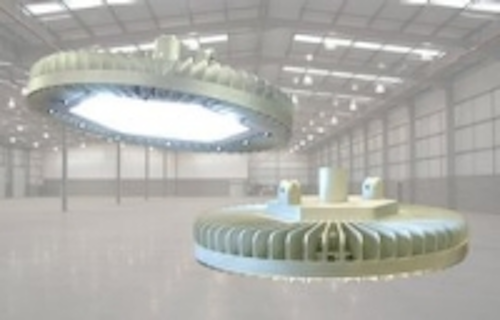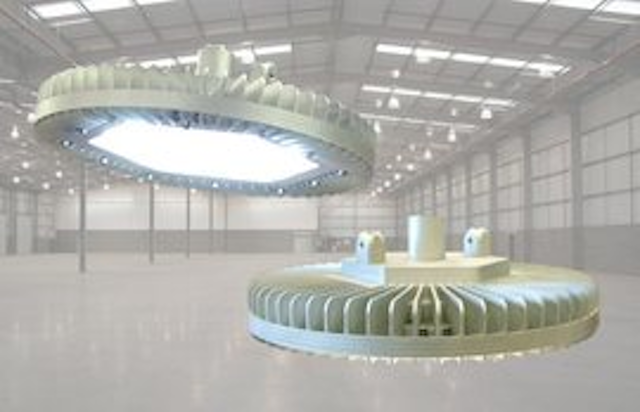 Date Announced: 27 Jul 2009
-- Introducing its LED High Bay fixture as the newest member of the SafeSite® series family of industrial and hazardous location LED lighting solutions, Dialight continues to deliver significant energy and maintenance savings versus conventional lighting technologies.
Newmarket, UK -- Applied LED technology specialist, Dialight plc, is set to introduce its first LED high bay luminaire which has been designed exclusively to replace conventional high bay lighting solutions in interior and exterior industrial, commercial and hazardous location applications.
Operating on just 150 watts, the powder-coated aluminium SafeSite® High Bay luminaire is designed to perform for 10+ years in even the most demanding applications - three times as long as traditional HID fittings and nearly twice as long as fluorescent solutions. Environmentally, the LED High Bay fitting is completely free of hazardous materials, including mercury, and boasts an annual energy saving that equates to over two metric tonnes of C02 saved per fitting per year. In a 1,000 fitting retrofit, that's equivalent to 347 cars off the road and over 19,000 mg of mercury saved annually.
Weighing in at less than seven kilos, half the weight of a conventional fixture, the SafeSite® High Bay's low-profile housing is designed to pair seamlessly with a full range of mounting options offered by Dialight. Combined with a rugged solid-state design that makes the luminaire resistant to shock and vibration, users are presented with a high level of versatility and reliability matched by the luminaire's superior ease of installation.
Case Study:
In a recent pilot installation with one of the largest commercial retailers in the United States, Dialight matched the lighting levels achieved by 1000+ T5 High Output fluorescent fittings in a refrigerated distribution warehouse with just under 800 LED High Bay luminaires - about 25% fewer fittings. Achieving this efficiency through the use of a combination of narrow and wide optics, the project is on track to generate combined annual energy, re-lamp and maintenance savings of over €243,000 with an expected payback period of 14 months.
This product is available now through Dialight's worldwide network of distributors.
Dialight is leading the lighting revolution for industrial users across the world. Applying leading edge LED technology it produces retro-fittable lighting fixtures designed specifically for hazardous locations, obstruction lighting, traffic and rail signalling to vastly reduce maintenance, save energy, improve safety and ease disposal. Versions of these high specification luminaires are also produced for more general industrial and outdoor situations. The company is headquartered in the UK with manufacturing locations in the UK, USA, Germany and Mexico.
Contact
Dialight Europe – Stuart Head Tel +44(0)1638 665 161
E-mail:Stuart.Head@dialight.co.uk
Web Site:www.dialight.com