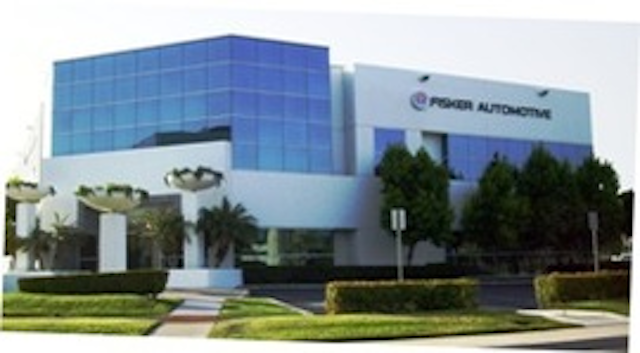 Date Announced: 21 Jul 2009
Lake Forest, CA, July 20, 2009 – EcoTek Lighting, a division of Expotrans, Inc., has developed energy efficient, ultra-bright outdoor LED light boxes for award-winning, premium green auto manufacturer Fisker Automotive, Inc. at two company locations.
The high-powered direct backlit outdoor LED light boxes were installed at Fisker Automotive corporate headquarters in Irvine, CA and at the Fisker Automotive engineering facility in Pontiac, MI.
EcoTek Lighting manufactured two outdoor LED light boxes for each building, which included custom-routed aluminum face plates and translucent vinyl graphics adhered to digitally-routed acrylic sheets.
Each Fisker Automotive building now features two brilliant outdoor LED light boxes: one light box with a 30" diameter and the other light box with a 24" diameter.
The translucent graphics and acrylic sheets of the Fisker Automotive outdoor light boxes are illuminated by EcoTek Lighting's LED Backlit Array technology. The rugged, durable light boxes are designed and engineered to provide more than 12 years of maintenance-free illumination.
The installation of the backlit LED outdoor light boxes in the diverse climates of Irvine, CA and Pontiac, MI was an acknowledgement of the fail-proof adaptability of LED lighting to wide temperature ranges.
EcoTek Lighting's light boxes with Direct Backlit LED Array technology offer:
• Energy efficient LED illumination
• Highest levels of luminosity for easy viewing
• Even illumination across graphics display area
• Corrosion-resistant extruded aluminum construction
• Architectural powder-coated surfaces with five year warranty on finishes
• Compliance with Federal energy efficiency and Green manufacturing standards
The Fisker Automotive outdoor LED light boxes contain LED panels that last from 50,000 to 100,000 hours and provide 55% greater energy efficiency than fluorescent lamps. The high performance outdoor backlit LED light boxes feature grids of LEDs across the entire surface area to provide six times the brightness of traditional edgelit light boxes. All EcoTek Lighting LED light boxes meet Federal standards for energy efficiency, including UL, CUL and CE listings and European RoHS Standards, and contribute points to LEED-certification. They are fully recyclable at end-of-life, and contain no heavy metals or other hazardous components.
Fisker Automotive, Inc. is a green American premium sports car company based in Irvine, CA. The company mission is to create a range of beautiful environmentally friendly cars that make environmental sense without compromise. The Fisker Karma Sunset PHEV hardtop convertible coupe was recently named the 2009 Production Preview Concept of the Year at the North American Concept Vehicle of the Year Awards, which were held at the Automotive Hall of Fame in Dearborn, Michigan. The North American Concept Vehicle of the Year Awards recognize those vehicles most likely to shape the future of the automobile industry.
Said Russell Datz, director of public relations for Fisker Automotive, "EcoTek is helping Fisker green its operations beyond its cars. Now we can display our name around the clock and still be environmentally responsible."
"We are honored to partner with such a dynamic and environmentally-focused company as Fisker Automotive to develop Eco-friendly products to help save the environment and reduce the Carbon footprint of our communities," said Rick Farrell, president of EcoTek Lighting.
About Fisker Automotive, Inc.
Fisker Automotive, founded in 2007 by Fisker Coachbuild, LLC and Quantum Technologies (QTWW), is a privately owned American car company producing premium green automobiles, with Henrik Fisker as CEO. Global headquarters are located in Irvine, Calif. The company is backed by Kleiner Perkins Caufield & Byers, Palo Alto Investors and the Qatar Investment Authority (QIA). More information is available at www.fiskerautomotive.com
About EcoTek Lighting
EcoTek Lighting, a division of Expotrans, Inc., is the leading provider of high performance light boxes, menu boards, poster frames and custom illuminated displays in the industry. Since 1984, we have set the standard for exceptional design, R&D, engineering, manufacturing and customer service. EcoTek Lighting was created with the mission of saving energy and producing Eco-friendly products. EcoTek Lighting received a 2009 Harvey Mudd College Green Engineering Certificate of Merit for energy efficiency at the TechAmerica High-Tech Innovation Awards. Corporate headquarters are in Lake Forest, Calif. Please visit www.EcoTekLighting.com or call 800-733-6661 for more information.
Contact
Dawna Lee Heising Director of Marketing EcoTek Lighting 26845 Vista Terrace Lake Forest, CA 92630
E-mail:dheising@ecoteklighting.com
Web Site:www.ecoteklighting.com