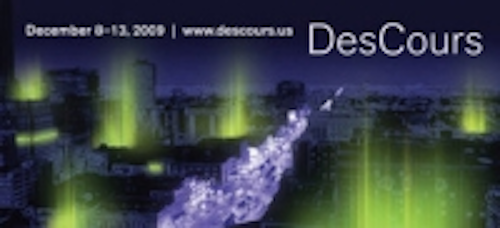 Date Announced: 12 Oct 2009
This December, New Orleans will showcase DesCours, a week-long, contemporary architecture and art event that explores the latest in design and technology through the presentation of innovative, large-scale architecture installations . After a competitive review of proposals from internationally recognized architects and artists, thirteen installations were chosen to nightly transform hidden spaces across the French Quarter and Central Business District of New Orleans.
During the week of December 7-13, this free, public event invites locals and visitors to view New Orleans historical spaces in a new way. The private courtyards, vacant buildings, and rooftops will be activated with an eclectic variety of site responsive installations by architects and artists including Sadi Brewton, Marshall Brown + Dana Carter, Felipe Correa of the Somatic Collaborative, Gregoire Diehl of Smoothcore, Hiroyuki Futai of F-TAI Architect, Mary Hale, Jennifer Hiser, Tiffany Lin + Mark Oldham, Leah Nanpei + Koko Hovaguimian of nan.ko studio, Virginia San Fratello + Ronald Rael of Rael San Fratello Architects, Junji Watanaabe, and Jimmy Stamp + Sergio Padilla. These artists represent cities from seven US states, including two teams from New Orleans, and the international cities of Tokyo and Paris. The installations will be paired with nightly changing entertainment by musicians and a total of three public parties will be held to commemorate the start, midpoint, and end of the event.
DesCours goes beyond traditional art mediums to explore creativity, culture, and expression within urban settings. "With DesCours now in its third year, we are looking forward to increased exposure and awareness for this event, and the highest caliber of unique installations from top designers as we uncover more hidden spaces for the public to see.", said Melissa Urcan, Executive Director of the American Institute of Architects New Orleans Chapter (AIA New Orleans). "While DesCours is a great means of cultural outreach within the city, it also showcases the unique architectural identity of New Orleans and puts our city on the map with other major art destinations worldwide."
AIA New Orleans is presenting the event in partnership with the Downtown Development District (DDD), the City of New Orleans, and numerous private businesses, organizations, and individuals. DesCours is recommended to be viewed either on foot or by use of bicycle, and will have self-guided and docent-led tours leaving from the new Center for Design on Lee Circle on a nightly basis during the event. More information can be found on the website, www.descours.us.
Contact
Contact: Megan Cook cook@aianeworleans.org 504.444.3599 cell 504.525.8320 office
E-mail:cook@aianeworleans.org
Web Site:www.descours.us