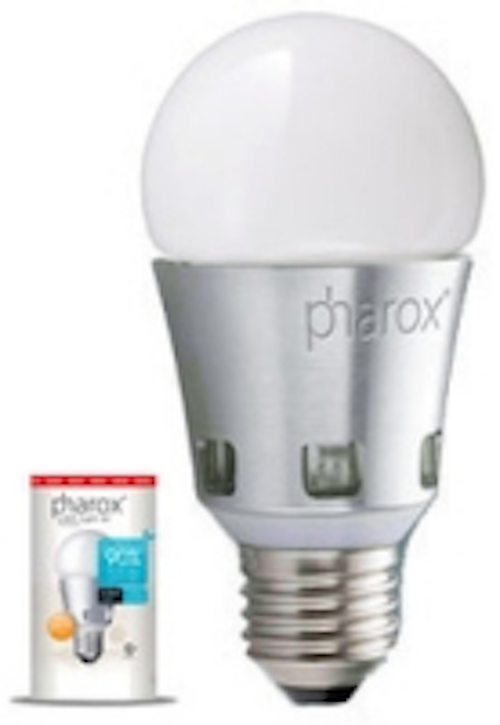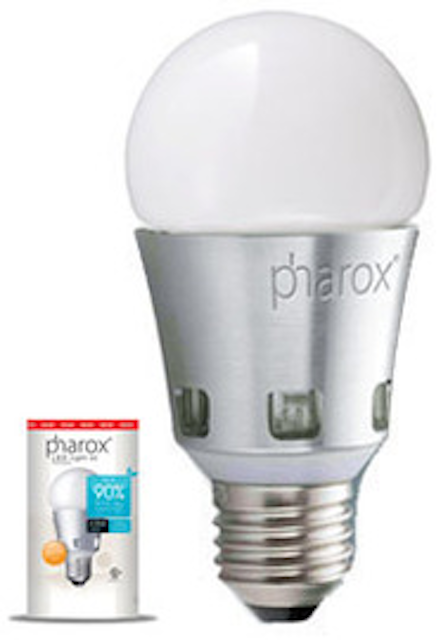 Date Announced: 05 Oct 2009
SAN FRANCISCO -– Today, Lemnis Lighting, Inc., the leader in LED lighting innovations, announced the consumer launch of the Pharox60 LED bulb available exclusively online at www.mypharox.com.
The Pharox60, the first true replacement for the incandescent bulb, represents a transformative technology for consumers looking to cut electricity costs and realize a quick return on an investment in the most efficient residential lighting solution on the market.
Based on a breakthrough and patented technology, the Pharox60 is up to 90% more energy efficient than an incandescent and lasts up to 25 times longer, with an estimated 25-year lifespan. That's six times longer than a CFL.
The design of the Pharox60 bulb resembles a traditional incandescent bulb and fits US residential fixtures, allowing consumers to easily make the shift to more energy efficient lighting without sacrificing light quality or aesthetics.
The bulb features technologically advanced dimming capabilities and a warm, soft glow that sets it apart from previous LED bulbs. The Pharox60 is made from non-toxic materials and may be safely recycled with other metals and glass.
The launch on the Pharox60 comes on the heels of Lemnis Lighting's commitment to the Clinton Global Initiative to distribute 10 million Pharox LED Light Bulbs worldwide by December 31, 2010. This action will save an estimated 788 million kWh per year, valued at almost $120 million in annual consumer savings, and eliminate 550,000 metric tons of carbon emissions every year onwards, the equivalent of taking 105,000 cars off the road.
The Pharox60 bulbs, already selling in Europe and now available to US consumers, address a global imperative to reduce the percentage of energy production used for lighting – currently 19 percent, according to the International Energy Agency. Seventy percent of the total cost of lighting is the cost of electricity, thus, energy-efficient lighting can offer significant savings in energy and operating costs.
"Our new Pharox60 bulb provides a cost effective way for families in the US to drastically lower their electricity bills while investing in their homes for generations to come," said Warner Philips, Founder of Lemnis Lighting. "The average consumer can earn back their investment in just over three years, or less than one year if you top off electricity from top tier tariffs. If the purchase were financed, the consumer would save cash on day one. Compared to the entry price for solar panels, we feel this is a more accessible energy saving investment."
The Pharox60 enters the US market at a strategic time as the sale of inefficient lamps will be curbed by 2014 in accordance with the Energy Independence and Security Act of 2007, effectively banning the incandescent lamp as we know it.
"The Pharox bulb presents a delightful prospect - beautiful, safe, cost effective, energy efficient lighting for everyone on the planet – the LED bulb is a big part of our human species' strategy of hope," said William McDonough, FAIA, Architect, Designer and Co-author of "Cradle to Cradle: Remaking the Way We Make Things".
MRSP (retail) pricing for Pharox60 is $39.95, available now at www.mypharox.com and coming soon on amazon.com.
About Lemnis Lighting
Based in The Netherlands and San Francisco, and operated with joint ventures in China and India, Lemnis Lighting began US operations in 2007. Built upon the core mission of energy efficiency, Lemnis brings LED enhanced lighting – the future of lighting technology – to homes, offices and cities to significantly reduce our carbon footprint. Lemnis was selected as a member of the Clinton Climate Initiative, and has been recognized by the World Economic Forum as a Technology Pioneer. For more information, please visit www.lemnislighting.com.
Contact
Lemnis Lighting www.mypharox.com
E-mail:info@lemnislighting.com
Web Site:www.lemnislighting.com