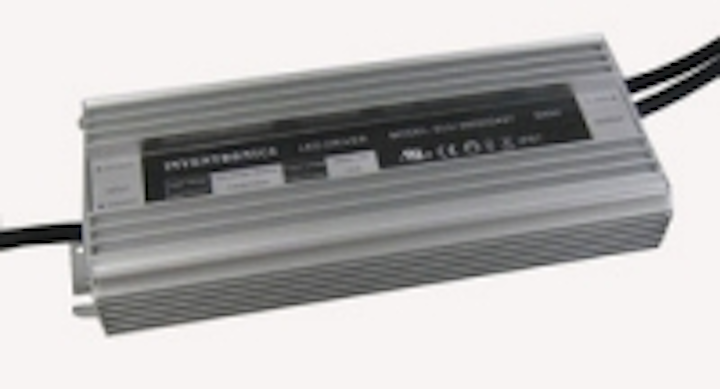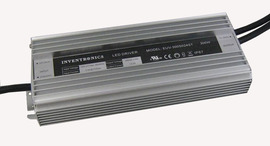 Date Announced: 28 Oct 2009
Hangzhou, China –- Inventronics announces the availability of the EUV-300S series of constant voltage drivers for solid state lighting applications. This new product release includes approvals to the recent UL8750 safety standard as well as compliance to EN61347. The EUV-300SxxxST series includes twelve different models with output voltages ranging from 12 to 150V. Depending on the output voltage these ultra-efficient drivers range from 92% for the 12V model to 94% for the 150V model.
In addition to the high efficiency of these drivers, a specially designed aluminum case with a finned exterior enables the products to run cooler, significantly improving reliability and extending product life. The lifetime of these drivers is calculated at about 149,000 hours when operating at 80% load with an ambient temperature of 45°C.
These products all operate over a very wide 90-305 Vac input range and provide excellent power factor. The high efficiency and long life of the EUV-300 Series makes it an ideal choice for street and area lighting projects where the justification is based on energy savings and lower maintenance costs. In order to insure trouble-free operation in these applications this product family also features robust lightning protection as well as over-voltage, over-current and over-temperature protection. The rugged aluminum housing is IP67 rated allowing for use in indoor and outdoor applications.
Production quantities of the EUV-300S Series are available now. For a full datasheet please check the Inventronics website (www.inventronics-co.com) or contact the company at sales@inventronics-co.com.
Contact
Contact Info: Inventronics (Hangzhou) Co., Ltd 3rd Fl, Bldg B. Eastcom City, 66 Dongxin Road Binjiang District, Hangzhou, Zhejiang 310053 P.R. China Attn: Ms. Grace Chen Tel: 86-571-88087661 or 86632260 Fax: 86-571-86601139 Email: sales@inventronics-co.com
E-mail:sales@inventronics-co.com
Web Site:www.inventronics-co.com