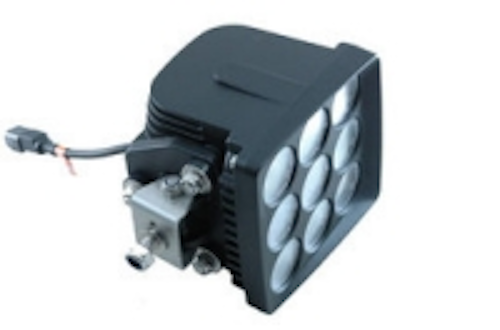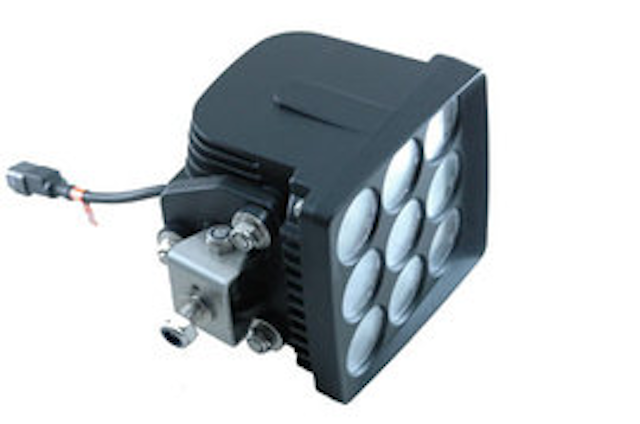 Date Announced: 14 Oct 2009
Larson Electronics' magnalight.com released the LED10W-9S 90 watt LED emitter light. Housed in cast aluminum, nine 10 watt LEDs are packaged within individual reflectors, generating 7,200 lumens, while drawing only 8.5 amps on 12 volts.
This LED light runs on input voltages ranging from 9 volts to 50 volts DC and its IP68 rating makes it applicable for wet area and dry area applications alike. Equipped with a stainless steel mounting that enables the operator freedom to position the light beam angle, the mounting itself is reinforced with 6 rubber shock isolators to protect the light and stabilize the beam in extreme vibratory conditions. Built and tested in the mining industry, the LED10W-9S LED light can be configured for a long range spot beam reaching 3500 feet or a wide area flood beam covering an area 2500 feet long and 190 feet wide. This LED is stocked in black and white, but other colors, including desert tan are available. The LED10W-9S is Buy American Compliant.
"The LED10W-9S LED generates 7200 lumens of light while only taking up about an area the size of a 5.5 inch cube," said Rob Bresnahan. "This is where we are heading with a lot of our low voltage vehicle, boat and heavy equipment lighting. These light rival our 50 watt HID in overall spot beam length and definitely outperform those HID lights when it comes to wide area lighting. With no bulbs to change and 50,000 life hours, these rugged lights will serve our commercial, industrial and military customers well. We have taken everything we have learned for our other LED lights and integrated into these newer fixtures. Many of our developments are designed and tested in the mining world, which I believe is the most abusive environments around. If you have a light that is considered standard equipment lighting in copper, coal or iron ore mining, you really have something that can take the extremes in vibration, temperature and overall filth. The LED10W series of LED lights has been developed for this application and so we know that is will perform well on the ocean or on the battlefield."
Larson Electronics produces a wide range of high powered LED lights for vehicles, equipment and boats, ranging from compact spreader LED lights to 240 watt LED lights.
Contact
You can learn more about the Magnalight range of LED lights at magnalight.com or 1-800-369-6671 (1-214-616-6180 international).
E-mail:info@magnalight.com
Web Site:www.magnalight.com