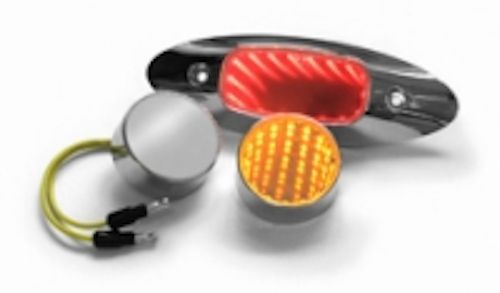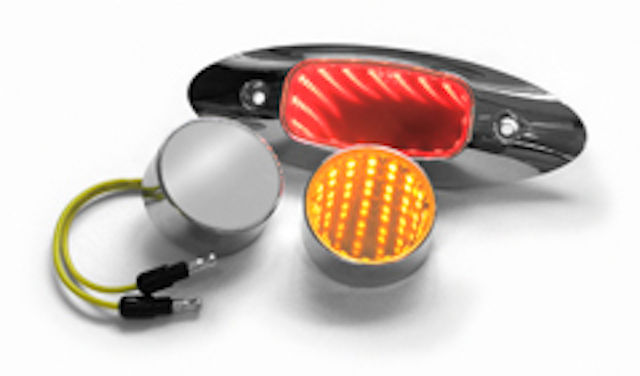 Date Announced: 09 Oct 2009
GRANDVIEW, MO – Peterson Manufacturing has expanded its LED line of Tunnel Lights with the brilliant new 274 Series –– a 2" round, grommet-mounted accessory light for trucks and trailers. It joins Peterson's 179 Series, the "ultimate accessory light" whose unique optics first introduced the stunning 3D tunnel effect that led to its name.
The two models feature an operating range of 8-16 volts and are available in both amber and red LED versions. Designed for accessory or off-road use only, they offer striking ways to illuminate and beautify such features as stainless steel air cleaners, headache racks, bumpers, door panels and running boards.
The 179 oval model surface mounts on 4" centers using #10 screws. The new 274 round model fits standard 2" rubber grommets. Both series come with .180 bullets which can be removed for hard-wire connection to vehicle harnesses. The non-polarized design allows connection of the hot wire to either lead.
According to Peterson Marketing Director, Mark Assenmacher, the Tunnel Lights are eye-grabbers whether lighted or not. "It's all in the revolutionary optics," he said. "When the lights are on, they're like looking into lighted tunnels of infinite depth. When they're off, they take on a sleek, mirrored-chrome look. We think operators are going to love accessorizing with them."
Peterson Manufacturing Company is a world-leading innovator in the production of a complete line of vehicle safety lighting, mirrors, reflectors, antennas and related products. As an ISO 9001:2000 certified company, Peterson Manufacturing is a key subsidiary of Peterson Corporation, 12 highly specialized companies and over 4,000 people working in global transportation related industries.
Contact
Mark Assenmacher, Dir. of Marketing Peterson Mfg. Co 4200 East 135th Street Grandview, MO 64030 Phone: 816-765-2000 FAX: 816-761-6693
E-mail:massenmacher@pmlights.com
Web Site:www.pmlights.com