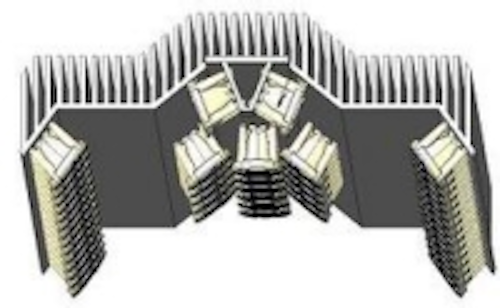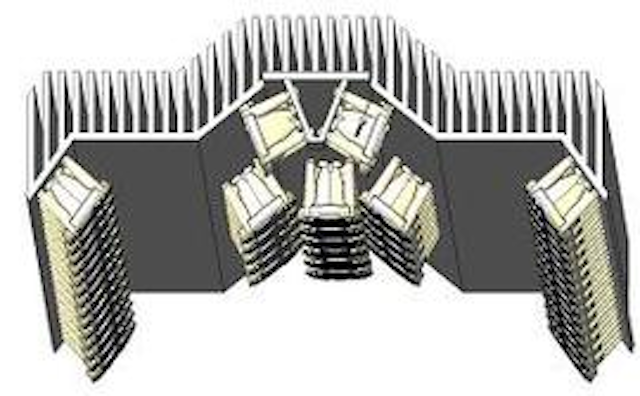 Date Announced: 08 Oct 2009
READING, Mass. -- Fraen Optical Manufacturing Group (OMG) has recently expanded its leading edge product offering of standard optical solutions for SSL streetlight applications to now include both the 32mm and 20mm lens assemblies for the leading LED brands
Fraen's standard optical solutions utilize a multi-plane
design for street lighting and area lighting applications. The modular design reduces the angle of refraction to increase the efficacy of light into the distribution on the ground. Several popular high-power LEDs are supported and the components can be modified to support any LED. In addition to a single optic style with robust heat-stake mounting, Fraen can customize the mechanical system to reduce part and system assembly cost.
With logical grouping of optics, the Fraen standard multi-plane street lighting optical system produce the illumination patterns required to meet demanding IES (North American) and CE (European)specifications while delivering efficient, uniform and low cost lighting.
Fraen OMG will be debuting these new LED Light Panels at these upcoming events:
LEDs 2009 (Booth #'s 28 and 29) in San Diego from Oct 20th – 22nd

Hong Kong International Lighting Fair (Booth 5B02-18,20) in Hong Kong from October 27th-30th.
About Fraen Corporation
Fraen Corporation's Optical Manufacturing Group specializes in the design, development and manufacture of optics for high-powered LEDs. Fraen offers a wide range of standard products for all major LED
makers as well as custom optic design services. Fraen's other businesses include its Advanced Manufacturing Division, which manufactures stepper motors; its Custom Manufacturing Division, which specializes in lighted plastic automotive interior components and complex metal fabrication; and Fraen Machining Corporation, which manufactures precision-turned metal components.
Contact
Scott Grzenda, Sales Manager Fraen OMG 80 Newcrossing Road Reading, MA 01867
E-mail:streetlightoptics@fraen.com
Web Site:www.fraenomg.com