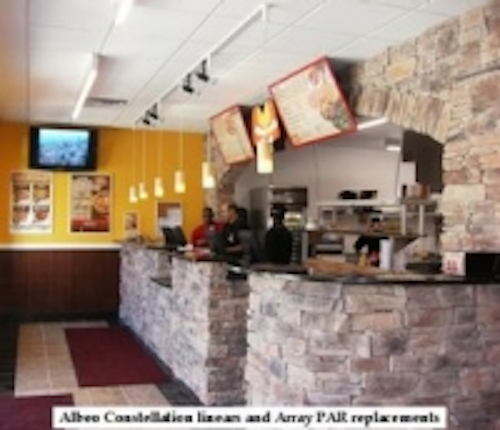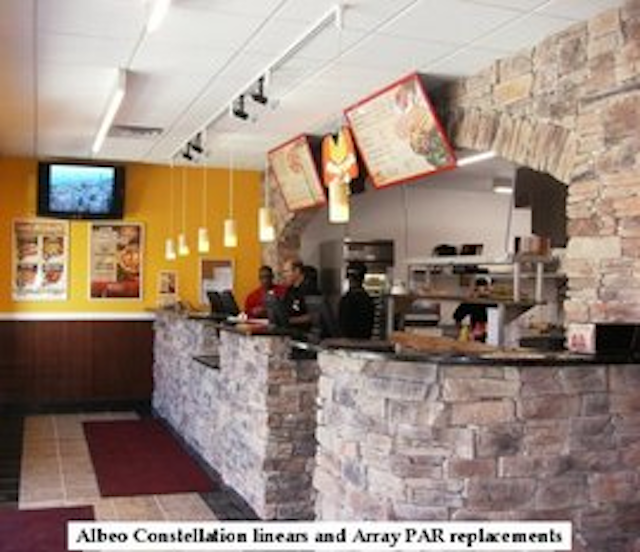 Date Announced: 26 Oct 2009
New York, NY /Atlanta, GA USA – Greenlight Initiative (GLI), a USA headquartered LED-lighting sales and solutions provider, announced the successful installation of a complete LED-based lighting system for the first of a number of new Marco's Pizza franchise restaurants across Georgia.
Mellina LLC, the design builder for the Georgia projects, reports this first installation has been well-received in terms of quality and energy-savings, and represents the first of 80 new locations over the next 3 years to be lit entirely with GLI's qualified LED lighting solutions.
Vipul Patel, President of Mellina LLC, commented, "I was personally very surprised at how well the LED solution worked out for this installation. We began using solid state lighting solutions in our green building projects in 2007, but bringing in the GLI team made the difference. We no longer waste resources wading through confusing claims by SSL manufacturers. Instead, we've tapped their expertise and they proved it on this first restaurant."
With Greenlight Initiative's approach, Mellina was able to replace the standard linear fluorescent fixtures with approximately one-half the number of Albeo Constellation 8-foot linear luminaires. In addition, GLI-qualified Array LED bulbs replaced the front service counter PAR lamps. Overall lighting energy was cut in half and maintenance was virtually eliminated. Vipul continued, "Not only did this more than replace the overall light level, but the quality and distribution was beyond what we expected. Seeing this kind of result has convinced us that LED lighting has really reached a whole new level."
Ronn Moore, Marco's Franchise Representative, commented, "Marco's Pizza is the fastest growing pizza company because of excellent food, recipes, and ingredients. The counter-ordering model reflects Marco's image as soon as the customer enters, and LED lighting was the right choice. The prep counter area can be fully lit with 4 fixtures instead of the normal 8, the quality enhancement is noticeable, and the 50% energy savings is valuable as Marco's expands."
According to GLI Sales Director, Richard Burton, the result wasn't an accident. "The addition of Albeo Technologies and Array Lighting to Greenlight's qualified lines was based on thorough product and company vetting and testing program. With that exhaustive effort, it really doesn't come as a surprise when our clients comment on the 'wow-factor' that a quality solid state lighting solution can bring to the table. Mellina implementing 'green' building projects before 'green' was cool, and we believe they will continue to set a high standard of environmental responsibility which will carry-over to clients' projects across the Southeast."
Greenlight Initiative will be joining prominent lighting decision makers, specifiers and municipal organizations to provide insights into the business case and adoption processes for LED lighting as a premier sponsor and presenter at this year's northeast SSL Design Summit, November 3-4 at the Hyatt Regency Jersey City. Visit www.SSLsummit.com for details.
Photos of the installation are accessible at http://www.lednyc.com/projects/091022marcos.php.
About Greenlight Initiative
Founded in 2006, and with offices in New York, Atlanta, Chicago, Kansas City and Quebec, Canada, Greenlight Initiative's mission is to provide clients with LED and other alternative lighting solutions that can replace and outperform incumbent lighting technologies in terms of energy savings, durability, life, and practicality. Through qualitative, real-world testing and laboratory evaluations, Greenlight presents its clients with a broad portfolio of money-saving, low-maintenance, advanced lighting solutions for a wide range of commercial, industrial and municipal applications. Contact Greenlight Initiative toll free at (888) 788 LEDS or +1 (718) 784-4440. www.LEDnyc.com
About Marco's Franchising, LLC
Headquartered in Toledo, Ohio, Marco's Pizza (Marco's Franchising, LLC) is the fastest-growing pizza company in the U.S. The company was founded in 1978 by Pasquale ("Pat") Giammarco and is committed to making Ah!thentic Italian pizza with fresh ingredients. Marco's is ranked one of the 25 largest pizza chains in the country by PMQ's Pizza Magazine and the top franchise in financial strength by AllBusiness. Marco's has grown from its roots as a beloved Ohio brand to operate more than 190 stores in 17 states. www.marcos.com
Contact
Nikitas Nicolakis Greenlight Initiative Tel: +1.718.784.4440
E-mail:nikita@lednyc.com
Web Site:www.LEDnyc.com