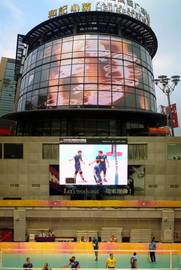 Date Announced: 30 Oct 2009
Shanghai Famos Square glass curtain wall LED screen
Currently in fashion, LED technology is being widely adopted into European and North American architectural designs to decorate buildings, to enhance their silhouettes at night and to display advertisements. Energy-saving advantages and other characteristics of LED lights significantly boost the effectiveness of large commercial signs.
Optotech's 60mm dot pitch LED products are used to build the LED screen of Shanghai Famos Square (top image). Light tubes are embedded in the glass curtain wall of the main building of the shopping center. The danger and disorderliness of conventional overhead signs are things of the past. When playing advertisements, the gigantic 46m-by-12m glass curtain wall screen boasts such powerful effects that even people 50 meters away are attracted by the images.
The integration of LED tubes and a glass curtain wall also retains light transmittance. The interior is not entirely deprived of natural light. Shoppers and visitors are still able to see the streets outside. The control system can play video, show images or even display a live broadcast. It is also capable of keeping time, detecting environmental changes and automatically adjusting the luminosity of the light tubes, which are made with LEDs from Nichia. Each LED element is built with 4R3G3B, making for highly reliable and excellent image colors.
The advanced design of this glass curtain wall not only sets an example of orderly urban appearance and safety improvement—it turns the shopping center into a visual attraction after dark.
Optotech's LED displays make an impression at the Summer Deaflympics
In 2009, Taiwan hosted two major international sporting events: the 2009 World Games, held in Kaohsiung, and the 21st Summer Deaflympics in Taipei; this was the first time that the Deaflympics had been held in an Asian city.
Optotech was honored to have the opportunity to play a part in the Deaflympics. Optotech provided 20 LED display walls, as well as LED moving signs, for use in the Deaflympics venues. These displays were used to show the action in the sporting events, and to display the scores (bottom image).
OPTOTECH's display systems performed extremely well in both of these roles, enabling the audience to fully appreciate the outstanding physical prowess, grace and determination of the deaf athletes taking part in the event.
Contact
Opto Tech Corporation –Systems Sales & Marketing Dept. Tel: +886-3-5638951 ext.23500 Fax: +886-3-595718 No. 1, Li-Hsin 5th Rd, Hsinchu Science Park, Hsinchu City, Taiwan. 30078
E-mail:6699@opto.com.tw
Web Site:www.opto.com.tw