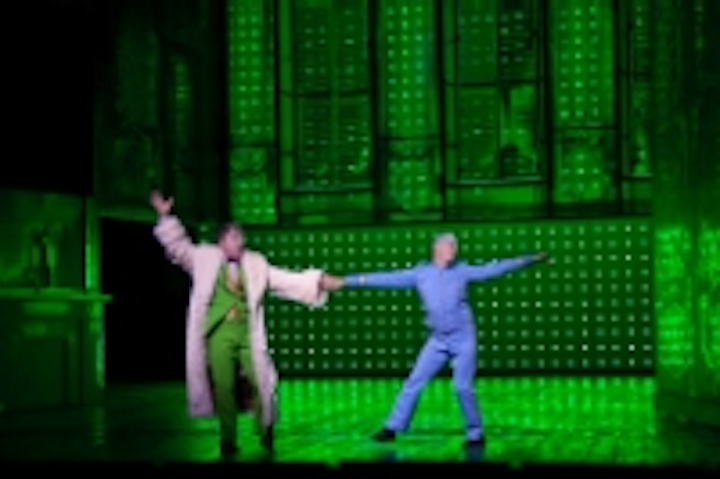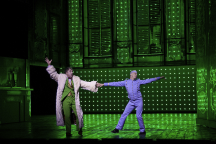 Date Announced: 06 Oct 2009
"I never want to light a cyc again without it!"
That's what London-based LD Peter Mumford says after using Martin Professional's high-brightness EvenLED RGB LED panels on the new opera "Prima Donna" at the Manchester International Festival (July 2 – 19).
Mumford used 111 EvenLED panels to light a large cyclorama for the opera which played at the Palace Theatre. "I particularly wanted to use EvenLED for "Prima Donna" to achieve a perfectly even cover using a rear projection cyc behind a painted glass wall and have the possibility of numerous color changes and 'wipes' of color," Mumford commented.
"In the finale aria of the show entitled "Feu d'artifice" I was able to animate an abstract 'fireworks display' through another huge glass window and the result was very beautiful." Working with Mumford was a team led by production electrician Keith Johnson and programmer Victoria Brennan.
Festival Technical Director Jack Thompson was looking for a spectacular and flexible cyc light to light the rear wall of the set which was see through, he says. Lighting supplier White Light made the suggestion to use EvenLED.
"We looked at several options and after seeing Rob Halliday demonstrate the EvenLED wall on Mary Poppins as part of an ABTT workshop, I was convinced that it would be perfect for this production. Not only could it produce a spectacular array of colors and seamless color changes, but it also, through some fine programming by Vic Brennan, produced some wonderful effects of fireworks exploding in the night sky, excellent rolling clouds, the French flag fading out of the night sky," Thompson stated.
Martin's EvenLED is a panel of high powered RGB LEDs used to back-project a completely even field of light over a projection surface. The modular system is easy to assemble and has many advantages over traditional cyclorama lighting like greater evenness of field. It is ideal for theatre use as it is totally convection cooled for silent operation.
"It is a wonderful tool for the lighting designer and we liked it so much we even took the BP screen out and used it naked to the audience with superb results," Thompson continues. "I will be looking to recommend it to all of the designers coming up to the next Festival. When they ask 'how should we light this cyc?' I'll always put EvenLED on the truck."
White Light supplied the lighting to many of this year's Festival shows, including "Prima Donna." "EvenLED is proving to be an increasingly popular product," stated David Isherwood, Hire & Technical Director at White Light. "Designers who try it once always want to use it again."
Photo courtesy Manchester International Festival; photographer Clive Barda
Martin Professional
Founded in 1986 and headquartered in Aarhus, Denmark, Martin Professional is a world leader in the creation of dynamic lighting solutions for the entertainment, architectural, and commercial sectors. Martin lighting solutions are industry standard on top tours and events, grace prestigious theatres, energize nightclubs, and decorate major television studios around the globe. Other important areas of application are indoor and outdoor architecture and commercial applications where Martin products are increasingly being used to transform spaces through dynamic light. Martin also offers a range of advanced lighting controllers and media servers, as well as a complete line of smoke machines as a complement to intelligent lighting. The company operates the industry's most complete and capable distributor network with local partners in nearly 100 countries. For more information please visit www.martin.com
Contact
Larry Beck at Martin Professional
E-mail:larry.beck@martin.dk
Web Site:www.martin.com