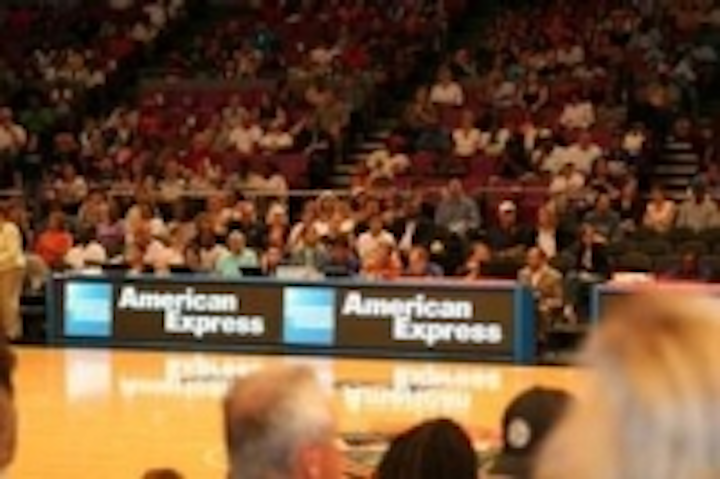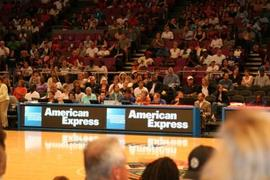 Date Announced: 19 Oct 2009
Purchase, New York - ANC Sports Enterprises today announced new courtside signage and marketing agreements with four National Basketball Association teams for the 2009-10 season, increasing the company's NBA client roster to 19 partners.
The New York Knicks and Charlotte Bobcats become the two newest teams to feature ANC Sports' courtside signage, while the Philadelphia 76ers and Oklahoma City Thunder extended their existing partnerships and upgraded from traditional rotational signage to the DLP® Digital Courtside Signage System.
While 11 teams will now use ANC's DLP® Digital Courtside Signage System, the Knicks became the first NBA team to feature light emitting diode (LED) technology courtside during a preseason game on Sunday, October 4th at Madison Square Garden. ANC Sports worked closely with the NBA, testing a newly designed Mitsubishi Electric Diamond Vision® LED system during New York Liberty home games throughout the 2009 WNBA season.
"We are committed to developing the most advanced technologies that will maximize the revenue and entertainment value of courtside inventory," said Jerome Cifarelli, president and chief executive officer of ANC Sports Enterprises. "ANC's different courtside signage systems offer our partners multiple options that support and create marketing opportunities based on individual team objectives."
Driven by ANC's patent-pending VisionSOFT™, the DLP® and LED courtside systems feature unlimited inventory and are capable of displaying real-time statistics in conjunction with a sponsor's message offering new marketing packages for corporate partners. Based on the new agreements with the Knicks, 76ers, and Thunder, ANC will provide game day operation of the new digital signage systems, as well as develop all the graphic content for the state-of-the-art displays.
In addition to debuting new digital signage systems, ANC became the official courtside rotational and marketing partner of the Charlotte Bobcats. Through the multi-year partnership, ANC will help drive revenue opportunities for Bobcats Sports & Entertainment with the placement of sponsors on the televised advertising system and throughout other highly visible sections of the arena.
About ANC Sports
ANC Sports Enterprises, LLC, a Celeritas Management company, is the industry leader in team and venue services, providing integrated signage, design, and marketing solutions for sports and commercial facilities. ANC Sports and its divisions: ANC Technologies, ANC Design, and ANC Marketing, offer Light Emitting Diode (LED), rotational and fixed visual displays; advanced media control systems; signage operation and maintenance; advertising sales and marketing consultation; graphic design; and printing production. ANC Sports provides signage solutions for 200 plus venues/stadiums in North America. Celeritas Management, Inc. (www.celeritasmgmt.com), a portfolio management and operating company funded by Palladium Equity Partners, LLC, seeks to invest in and grow businesses in the sports, entertainment, and marketing services industries by bringing together innovative assets with talented management. For more information on ANC Sports, please visit its web site at www.ancsports.com.
Contact
Michael Hopkins ANC Sports Enterprises 516-643-5751
E-mail:mhopkins@ancsports.com
Web Site:www.ancsports.com