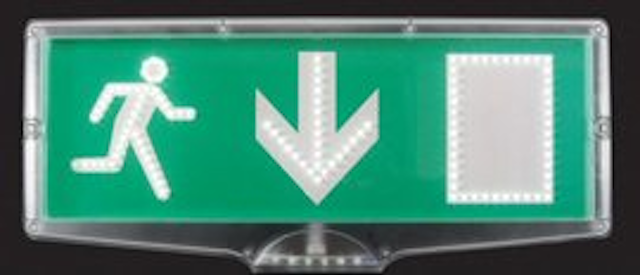 Date Announced: 16 Oct 2009
A brand new product in the Emergency Exit signage sector as for the first time the sign is front lit.
XiTlight represents the next generation in maintained exit signage utilising LED point sources of light in the pictograms - no fluorescent tubes - Mercury free!
Research has shown that point sources of light are more visible than planar light sources in a smoke filled atmosphere. XiTlight provides emergency exit signage that is more visible in smoke, increasing the chances of escape in the event of fire/smoke filling an area, therefore minimising injury through smoke inhalation and greatly enhancing public and employee safety.
Emphasis was also placed on the increasing demand by public and commercial customers to demonstrate a commitment to environmental best practice.
Designed, developed and manufactured exclusively in the UK, XiTlight has notable environmental features such as utilising a Nickel-Metal Hydride Battery, as opposed to a Nickel Cadmium battery found in the majority of standard exit signs. Subsequent tests have found that NiMH batteries have better performance characteristics than NiCAD cells and they they contain no toxins such as Cadmium which is hazardous to the environment and non-biodegradable.
XiTlight features highly efficient light-emitting diodes (LED's) in their lighting systems, realising their potential and environmentally friendly qualities. LED's are the preferred light source for today and future technology. They are solid state and the LED's utilised in XiTlight generate minimal heat whilst delivering massive light output. Fluorescent tubes generate heat and contain mercury. Cold cathode tubes contain mercury. Incandescent lights generate heat and will soon be unavailable.
LED's have no filament and use up to 90% less operating power than equivalent filament based bulbs , resulting in a reduction of energy consumption. LED's properly managed virtually negate the possibility of "burning out". The typical life of an LED is around 100,000 hours (11 years) and XiTLight have extended this further by incorporating selective electronics. XiTlight has a very economical whole-life cost, and saves on bulb replacement. XiTlight typical power consumption is equivalent to a 5 watt CFl and is Mercury free.
80 million fluorescent tubes are used annually in the UK which equates to approximately 3,100 tonnes of material disposed to landfills including 4 tonnes of Mercury. The Mercury from one single fluorescent tube is enough to pollute 30,000 litres of water beyond the safe drinking level in the UK . LED's contain no Mercury and represent a giant leap forward in terms of energy conservation, lamp life and offer a better green footprint.
The Directors , XiTlight Ltd: "We are very pleased after 12 years of quantifiable research and development that the product is now ready. We have deliberately taken our time to ensure that the XiTlight complies or exceeds the relevant standards and is unique in its product class. Equally pleasing are that the technical merits of XiTLight are also reflected in its environmental credentials.
"Most importantly we really believe that XiTlight will save lives."
For more details please visit the website www.xitlight.com. Full details of standards passed and design registrations are available on the website.
XiTlight provides the next generation in maintained emergency exit signage. Offering the first ever front lit emergency exit sign it combines today's architecture with stylish design and offers pictograms utilising LED point sources of light.
Designed, developed and made in the UK XITlight's other notable features include – built in battery test facility via an I/R remote, 4 hour battery back up in emergency mode with increased and maintained light output levels, mercury free (no fluorescent tubes), solid state technology, adjustable mains healthy light level, auto dimming, cost effectiveness. Independent tests have now proved that the XiTlight provides greater visibility in smoke thereby greatly enhancing employee safety.
Contact
Louise McCourt at Marketing Contacts Tel: 01252 629222
E-mail:louise@marketingcontacts.co.uk
Web Site:www.xitlight.com