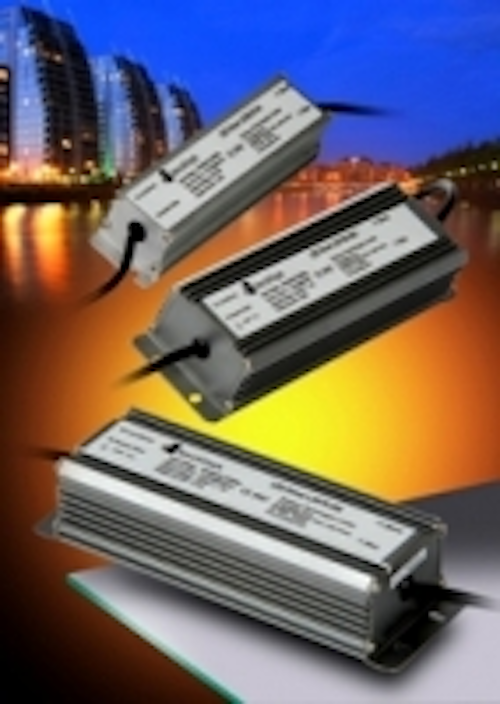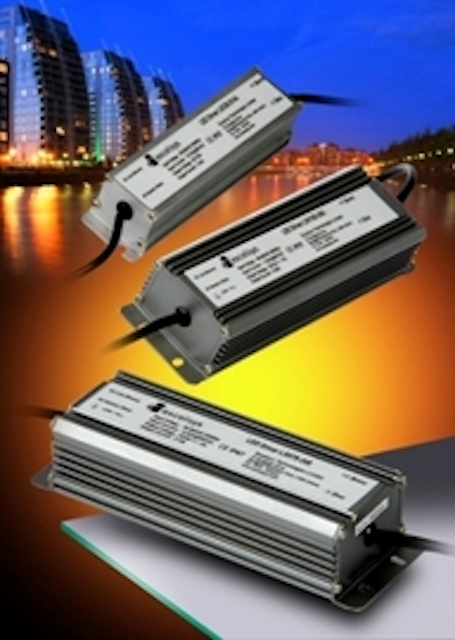 Date Announced: 29 Oct 2009
Excelsys Technologies, technology leaders in high efficiency power supply design, now offer wide a range of products for industrial and architectural LED lighting applications. The constant current output LXC series and the LXV constant voltage series offer up to 300 watts of output power in extremely compact, rugged IP67 enclosures.
The LX series of LED power supplies from Excelsys offer leading edge performance in terms of efficiency up to 95%, reliability, MTBF figures in excess of 1 Million hours, and IP67 rating, making them suitable for harsh outdoor as well as indoor applications.
The constant current output LXC series is available with either 30 watts or 50 watts of output power with efficiencies up to 88%. Both models have universal input over the range 90-305VAC and an operating temperature range of -30 to +70 degC. The LXC series is protected against over voltage and short circuit and meets EN55015 level B for conducted and radiated emissions. Output currents available include 350mA, 450mA, 700mA, 1000mA, 1400mA, 2100mA, 2500mA and 3000mA.
The LXV series of constant voltage LED power supplies is comprised of 5 models with output power of, 75W, 100W, 150W, 200W and 300W with no minimum load and efficiency up to 95%. All feature over current and over voltage protection as well as short circuit and over temperature protection and are rated to IP67. These models have a wide Input voltage range of 90-305VAC. All models meet EN55015 level B for conducted and radiated emissions as well as EN61000-4-5. A wide range of output voltages are available to suit specific LED requirements, these include 12, 24, 36, 42, 48, 54, 81 and 105VDC.
All Excelsys LED power supplies carry full safety approvals to UL1310, EN61347-2-13 and are CE marked and RoHS compliant.
Dermot Flynn, Director of Sales for Excelsys Technologies, comments. "Our new LED lighting solutions are a good example of the flexibility of Excelsys high efficiency power solutions and our ability to provide a fast and competitive response to new market requirements. LED lighting solutions in domestic, industrial, architectural and display products are leading the way because of their small size, high efficiency and long life. Our new range of LED power supplies provides a state of the art power solution for these applications."
Boasting operational lifetimes in excess of 100,000hours, and efficiencies of 95%, the LX series provide LED Luminaire manufacturers with the highest reliability, and lowest power consumption ensuring long life and significant energy savings
Excelsys LED power supplies Excelsys will be increasing the range of both its constant voltage and constant power LED power supplies throughout 2009 and 2010 to provide high quality, high efficiency, IP67 power solutions for manufacturers of street lighting and architectural lighting installations.
Typical applications for the LXC and LXV families include outdoor applications such as street lighting, tunnel lighting, sign applications and architectural lighting solutions and electrical "brown" and "white" goods such as refrigerator lighting.
Contact
Dermot Flynn Excelsys Technologies Ltd. 27 Eastgate Drive, Eastgate Business Park, Little Island, Cork, Ireland T: +353 21 4354716 F: +353 21 4354864
E-mail:dermotflynn@excelsys.com
Web Site:www.excelsys.com