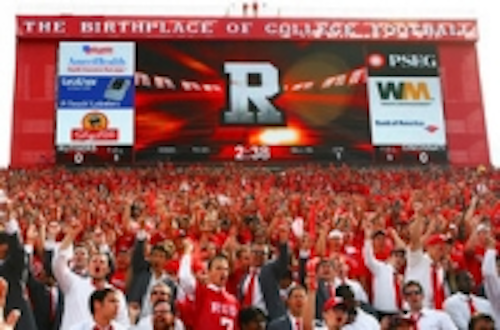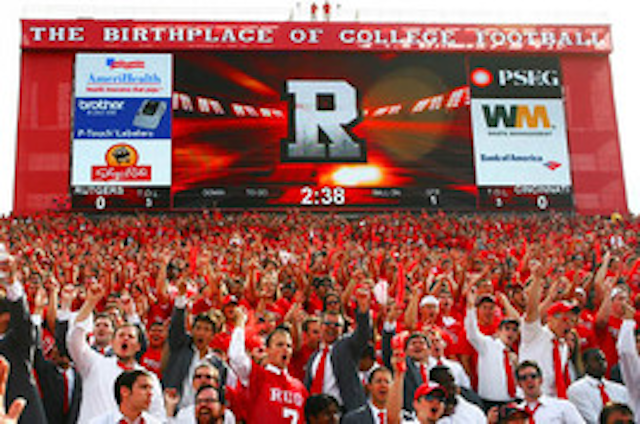 Date Announced: 20 Oct 2009
BROOKINGS, S.D. -- Scarlet Knights fans this season are being treated to a state-of-the-art, high definition video display at Rutgers Stadium. Daktronics Inc. (Nasdaq-DAKT) recently installed the new HD video display at Rutgers, the State University of New Jersey.
Rutgers is currently in the midst of a $102 million expansion of the stadium to increase its seating capacity to 56,000. The LED displays are part of that expansion. Last season, three Daktronics ribbon displays were installed along the fascia of the stadium.
"Our new Daktronics scoreboard continues to receive rave reviews from our fans and sponsors," Kevin MacConnell, Deputy Director of Athletics at Rutgers, said. "It is a great addition to Rutgers Stadium. Its high definition capabilities does in fact make it as if you are watching it on TV at home. We couldn't have found a better scoreboard for the 'Birthplace of College Football.'"
The new HD-X video display in Piscataway, N.J., measures almost 38 feet high by 68 feet wide. The board can show a single high-definition video feed or be divided into multiple zones (windows) to show a wide variety of statistics, information, graphics, animations and video.
Two auxiliary 23mm displays are installed at Rutgers Stadium. Each measures approximately 38 feet high by 23 feet wide and will work in conjunction with the HD display to keep Rutgers fans involved in the game with scoring, sponsor and other game-related information.
"We are proud to partner with Rutgers on the project," Scott Willson, Daktronics Sales, said. "The new HD video display is a great centerpiece for the new stadium expansion, and when combined with the 800 feet of ribbon display that was installed last year, it really puts Rutgers at the forefront of college football facilities in terms of their LED technology."
Daktronics LED video and messaging display technology offers a long lifetime with minimal maintenance and low power consumption, providing value and excitement for years to come.
About Rutgers University
With campuses in New Brunswick and Piscataway, Newark and Camden, Rutgers University is the largest institution for higher education in the state of New Jersey. It was originally chartered as Queen's College in 1766 and is the eighth-oldest college in the U.S. One of the first universities to offer intercollegiate athletics, it was designated the state university of New Jersey by acts of the New Jersey Legislature in 1945 and 1956.
Currently, more than 52,470 students from all 50 states and 100 countries attend Rutgers, served by nearly 10,500 faculty and staff.
About Daktronics
Daktronics has strong leadership positions in, and is the world's largest supplier of, large screen video displays, electronic scoreboards, computer-programmable displays, digital billboards, and control systems. The company excels in the control of large display systems, including those that require integration of multiple complex displays showing real-time information, graphics, animation and video. Daktronics designs, manufactures, markets and services display systems for customers around the world, in sport, business and transportation applications. For more information, visit the company's World Wide Web site at: http://www.daktronics.com, e-mail the company at sales@daktronics.com, call (605) 692-0200 or toll-free (800) 325-8766 in the United States or write to the company at 331 32nd Ave. PO Box 5128 Brookings, S.D. 57006-5128.
Contact
Mark Steinkamp Daktronics Inc. Large Sports Venues 605-692-0200 mark.steinkamp@daktronics.com
E-mail:mark.steinkamp@daktronics.com
Web Site:www.daktronics.com