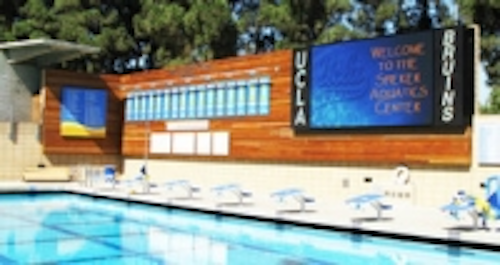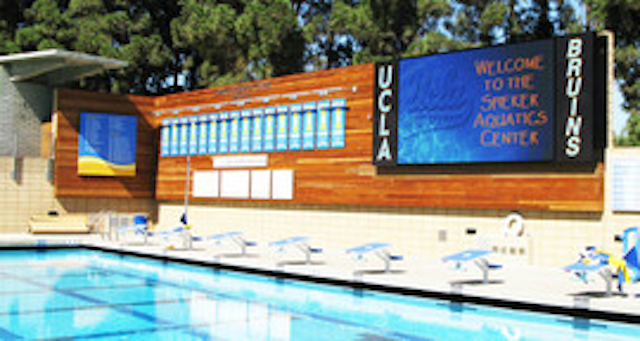 Date Announced: 14 Oct 2009
BROOKINGS, S.D. –– Coaches, student-athletes and a capacity crowd of fans were in attendance for the first official athletic event at the new Spieker Aquatics Center at the University of California–Los Angeles. They were treated to not only a new state-of-the-art home for their aquatics sports, but also a complete scoring, timing and video system designed, manufactured and installed by Daktronics Inc. (Nasdaq-DAKT) of Brookings, S.D. for swimming, diving and water polo.
"We are extremely excited about the opportunities the new integrated system Daktronics will provide for our new aquatics center," Kevin Borg, Director of Facilities, said. "Over the years, we've said, 'Let's give our athletes something they can call their home.' With the Daktronics video and timing equipment, we will have the best state-of-the-art system as they come."
The new 23 mm display was installed on the east side of the venue, next to the "Champions Wall" showcasing the accomplishments of UCLA's past and present aquatics teams. The display measures almost nine feet high by nearly 16 feet wide. It is able to show live video, up-to-the-minute statistics, timing and results information, custom animations and full-color graphics and logos.
The new system will ensure precise and accurate timing of events with the combination of Relay Take Off Platforms (RTOPs), Daktronics patented touchpads and Daktronics OS-2000 sports timers.
"Daktronics has been committed to the aquatics market," Cyndi Gallagher, UCLA's head swimming coach, said. "Now Daktronics has provided us with touchpads and timing equipment that are some of the best in the NCAA marketplace."
The timers provide 1/1000th of a second accuracy and advanced features needed at high level competitions. The touchpads are highly sensitive across the entire nonslip surface and fill with water to equalize internal and external pressure. They are constructed of stainless steel, providing a reliable surface that will not warp or leak. Daktronics RTOPs are not dependent on the weight of the athlete, the style of start or variations with blocks. Instead, they detect the split second a swimmer loses contact with the platform during a relay exchange.
In addition, the Spieker Aquatics Center added pace clocks and horn start systems.
"We were honored to work with UCLA and to provide video and timing equipment for this state-of-the-art facility," Robin Hall, Daktronics Regional Sales, said. "Daktronics is committed to the aquatics market and to the aquatics programs at UCLA, and we will remain focused on providing quality products and service to UCLA and committed to a long term partnership."
Daktronics LED video and messaging display technology offers a long lifetime with minimal maintenance and low power consumption, providing value and excitement for years to come.
About UCLA's Spieker Aquatics Center
The Spieker Aquatics Center is a state-of-the-art facility that will bring together all three of UCLA's intercollegiate aquatic sports – water polo, swimming and diving – in one venue. It offers the opportunity to not only host UCLA athletic events, but Master's swimming events and individual and club swim meets and U.S. Water Polo events, along with regional, national and international competition.
The $10 million project houses a 52-meter x 25-yard deep-water pool and diving well and features three, five, seven and a half, and 10-meter platforms on a diving tower as well as one and three-meter spring boards. The east side of the venue features a "Champions Wall" which includes the accomplishments of UCLA's past and present aquatics teams in addition to the Daktronics display. The center also includes a clubhouse with locker rooms, coaches' offices and meeting rooms. The permanent grandstand is able to hold 800 spectators, with the ability to seat an additional 1,700 spectators in temporary seating.
About Daktronics
Daktronics has strong leadership positions in, and is the world's largest supplier of, large screen video displays, electronic scoreboards, computer-programmable displays, digital billboards, and control systems. The company excels in the control of large display systems, including those that require integration of multiple complex displays showing real-time information, graphics, animation and video. Daktronics designs, manufactures, markets and services display systems for customers around the world, in sport, business and transportation applications. For more information, visit the company's World Wide Web site at: http://www.daktronics.com, e-mail the company at sales@daktronics.com, call (605) 692-0200 or toll-free (800) 325-8766 in the United States or write to the company at 331 32nd Ave. PO Box 5128 Brookings, S.D. 57006-5128.
Cautionary Notice: In addition to statements of historical fact, this news release contains forward-looking statements within the meaning of the Private Securities Litigation Reform Act of 1995 and are intended to enjoy the protection of that Act. These forward-looking statements reflect the Company's expectations or beliefs concerning future events. The Company cautions that these and similar statements involve risk and uncertainties which could cause actual results to differ materially from our expectation, including, but not limited to, changes in economic and market conditions, management of growth, timing and magnitude of future contracts, and other risks noted in the company's SEC filings, including its Annual Report on Form 10-K for its 2009 fiscal year. Forward-looking statements are made in the context of information available as of the date stated. The Company undertakes no obligation to update or revise such statements to reflect new circumstances or unanticipated events as they occur.
- END –
Contact
Mark Steinkamp Daktronics Large Sports Venues +1 605-692-0200 mark.steinkamp@daktronics.com
E-mail:mark.steinkamp@daktronics.com