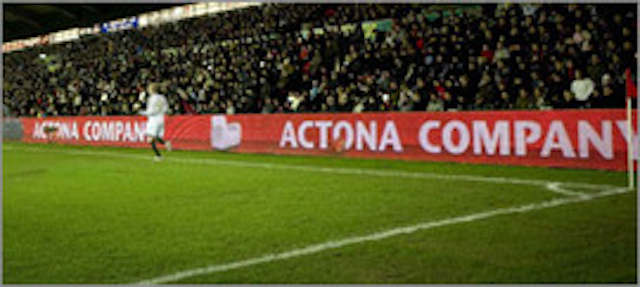 Date Announced: 09 Oct 2009
SHENZHEN -– Digital signage technology such as LED sports perimeter has revolutionized the way for sports marketing. SINOLIGHT's LED Sports Perimeter is designed to provide vivid visual effect during broadcast and to offer excellent advertising and branding packages.
SINOLIGHT's LED Sports Perimeter gives your fans the ultimate sports experience – before, during and after the game. The excellent craftsmanship and weather-proof module is certified IP65 on the front and IP54 on the back, making it resistant to harsh external elements.
Renowned for its perfect video and graphics performance including under direct sunlight, SINOLIGHT's LED Sports Perimeter comes with soft rubber mask that offers durability and full protection. The surface of the sports perimeter is impact-resistant and made of soft and flexible materials which are safe for all kinds of games and projectiles.
It also comes with adjustable viewing angle and the brackets are adjustable on angle depending on spectators viewing angle. They are also extremely portable with an integrated pull down rear back support brackets that can be supported on the ground. Smaller lighter module and simple connectivity also allow for easy assembly and disassembly of this product.
SINOLIGHT's LED Sports Perimeter is designed for both fixed and rental applications and is very suitable for stadiums. The standard options include Pitch 16mm, 20 mm and 25mm.
About SINOLIGHT
SINOLIGHT Optoelectronics Co. Ltd is a top world class LED display manufacturer. In 2007 we were the first LED display manufacturer worldwide to produce with mass production capability and soon we became one of the biggest LED display factories in China.
With projects in more than 80 countries worldwide, and Europe as our biggest market we are offering high-end LED displays such as indoor full-color LED display, outdoor full-color LED display, LED curtain wall, LED graphics & video board, LED concave & curve display, LED information board and OEM/ODM services.
SINOLIGHT offers a wide range of products from Pitch 4mm to Pitch 60mm that allows you to select the most suitable configuration with the best resolution that is required for your applications.
Contact
Eemei, Marketing Communications Manager SINOLIGHT Optoelectronics Tel: +86 755 33828193
E-mail:global@szsinolight.com