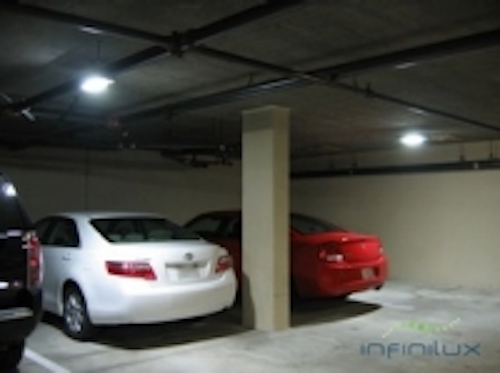 Date Announced: 01 Oct 2009
Carson, California and Washington DC -– American University has selected the Infinilux, Inc. new light emitting-diode (LED) solid state low bay light for one of the largest SSL installation in the Washington DC area to date.
The LB36 was selected to help American University achieve LEED Gold status for their new SIS building. The entire installation will draw less than 0.1W/sq-ft max, 68% below the ASHRAE target of 0.3W/sq-ft, and will provide a reduction in overall power consumption of over 38.4 kilowatts or a savings of nearly $98,900.00 on energy alone.
American University is an environmentally conscious university of nearly 14,000 students, faculty and staff. The new lighting project will offer a number of benefits for the university as well as for the environment.
The reduction in energy consumption is the equivalent of removing 635,000 tons of CO2 from the environment or taking 194 cars off the roads permanently. The improvement in lighting quality will increase driver and pedestrian safety.
The reduction in maintenance cycles will also provide a tangible savings for the university as the Infinilux LED low bay units have an expected maintenance cycle exceeding 50,000 hours (70,000 hours to L70 at Ta=25°c). The driver section is UL listed and has integrated, auto-recovery over-voltage, transient (ANSI C62.41 Class A) and short/overload protection. The entire driver section of the LB36 is "plug and play" serviceable, and requires no special tools or fixtures for field service.
"The inherently environmentally friendly nature of Infinilux's solid state lighting (SSL) technologies combined with the reduction of traditional maintenance costs creates a win-win for both the environment and American University." Said Anthony Vilgiate, Infinilux Vice President.
"We evaluated a number of technologies and competing SSL units, and chose the Infinilux LB36 for a combination of the low glare, robust design and incredibly low power consumption," said Architect Michael R. Purcell, AIA, LEED AP. "We wanted to select a product that would both reflect the university's core values as well as represent what we believe is the current state-of-the-art."
About Infinilux, Inc.
Infinilux, a Cree LED Solutions Provider, deigns and manufactures high performance lighting products that can be used worldwide in high-profile applications within the architectural, public spaces, theater lighting, retail, residential, landscape, signage, entertainment, hospitality, fine arts, and commercial markets. Infinilux also provides OEM design and manufacturing services for some of the top names in the lighting industry.
The Infinilux product line includes a variety of high-output indoor and outdoor Solid State retrofit lamps to replace inefficient incandescent lamps as well as a wide range of color wash and accent LED-lighting strips. These strips are ideal for under cabinet lighting in both homes and recreational vehicles and are suitable for use as a light engine for standard lighting fixtures and displays.
About American University
American University has a vision to be one of the leading universities nationwide, promoting excellence in education and service among its students and faculty, increasing access to its educational resources and working with communities to positively impact social and economic development. Furthermore, American University is an institution where sustainability is a fundamental precept underlying its teaching, learning, research and service missions; it seeks to create meaningful change by producing knowledge resulting in solutions to global problems of sustainability. For more information about American University, visit: http://www.american.edu
Contact
For more information or to receive a catalog please contact Infinilux Inc. 1457 Glenn Curtiss Carson, Ca. 90746 USA Tel: (800) 353-4001
E-mail:anthony@infinilux.com
Web Site:www.infinilux.com