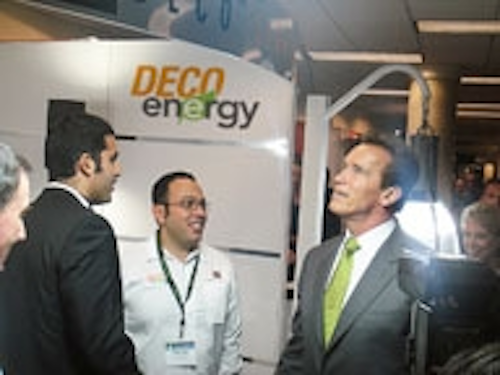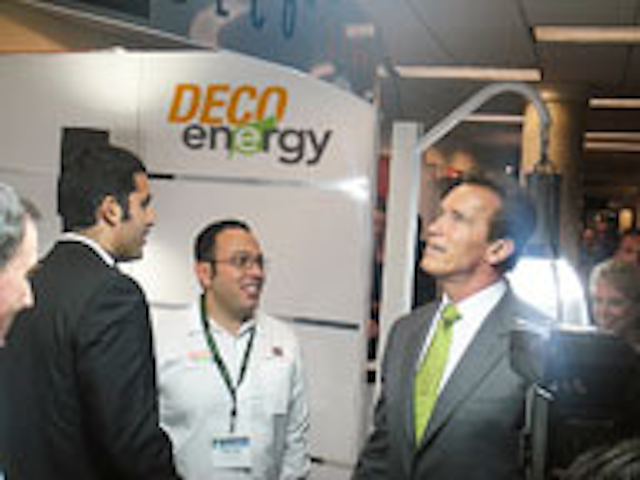 Date Announced: 09 Oct 2009
Deco Lighting was featured at this historic high profile International event, held at the Hyatt Century Plaza in Los Angeles, Sept. 30 – Oct. 2. The Global Summit brought officials and dignitaries from around the world to strategize and implement practices to increase the use of sustainable clean energy, reduce greenhouse emissions, and grow a green economy. Deco Lighting was invited by California Governor Arnold Schwarzenegger and co-host Governors.
"We are very honored and excited to be chosen as one of only a few lighting companies among hundreds in the industry to participate in this Global Summit." said Bruce Hartnett, Director of Marketing & Sales for Deco Lighting. "Deco Lighting was selected because of our growing status as a leader in green technology lighting, providing the greatest selection of Induction and LED outdoor and indoor luminaires. We are focused on fulfilling today's needs for energy saving, sustainable, environmentally-friendly lighting."
Deco Lighting exhibited at the Green Solutions Showcase and featured latest technology Induction and LED luminaires. Affiliate company Next Solar Systems introduced their latest solar power systems. Green Solutions Showcase attendees included government officials, green product purchasers, environmental executives, global diplomats, and corporate executives. Extensive media coverage was provided by over 200 local, national and international TV and news reporters.
Deco Lighting's product exhibit and live interview with executives from Deco Lighting was broadcast on FOX Channel 11 News on Thursday, October 1st, in exclusive a.m. and p.m. news coverage of the Global Summit.
The 2nd Global Summit was hosted by the California Environmental Protection Agency, Governor Arnold Schwarzenegger of California, Governor Jim Doyle of Wisconsin, Governor Jennifer Granholm of Michigan, Governor M. Jodi Rell of Connecticut, Governor David Paterson of New York, and Governor Chris Gregoire of Washington, in partnership with the United Nations Development & Environment Programmes. Key participants included Environmental Protection Agency officials from the Obama Administration, United Nations officials, Nobel Peace Prize Winner Rajendra Pachuari (with former U.S. Vice President Al Gore for Global Warming awareness) and Los Angeles Mayor Antonio Villaraigosa. Foreign dignitaries participating included Tony Blair, former Prime Minister of Great Britain, Governors from Indonesia, Brazil,the Phillipines and Nigeria, and Provincial Premiers from Canada.
Deco Lighting, based in Commerce, CA, is a leading lighting manufacturer offering a comprehensive product line, including architectural and commercial fluorescent, Induction, LED, HID indoor and outdoor, exit & emergency lighting fixtures and lighting controls.
Contact
For more information, contact Deco Lighting at 310-366-6866 or visit: www.getdeco.com and www.green-technology.org
E-mail:info@getdeco.com
Web Site:www.getdeco.com