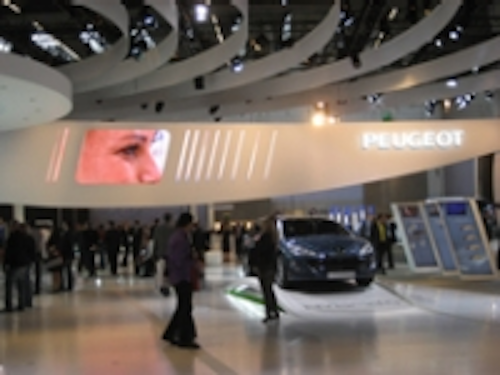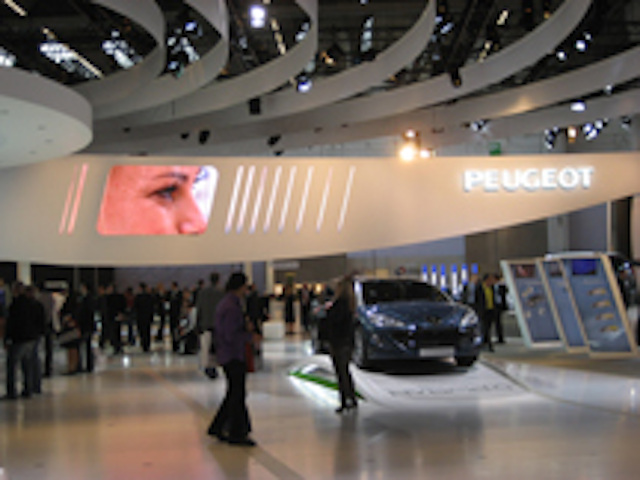 Date Announced: 28 Oct 2009
BROOKINGS, S.D., USA – October 28, 2009 – Automakers from around the world, including Peugeot – Europe's second largest carmaker, gathered in Frankfurt, Germany recently to unleash the hottest new production and concept cars at the 2009 Frankfurt Motor Show. Peugeot and selected audiovisual rental company, VPS, set the scene to unveil the company's new hybrid technology with a visually striking backdrop featuring a Daktronics (Nasdaq-DAKT) high-resolution, 6 mm modular video display.
"VPS has proudly been partnering with Peugeot at the Frankfurt Motor Show for a number of years," said Jo Alet, of VPS. "We are especially pleased with the visual quality of the new Daktronics LED display and how it enhanced the booth's overall appearance at this year's show."
The video display, comprised of twelve (12) Daktronics PST-6i-b modular LED video panels, provided onlookers with stills, graphics and video content highlighting Peugeot. These thin, lightweight video panels, designed for high-profile rental and staging applications, are the first in a series of black-package LED displays. Daktronics credits the 6 mm pixel design to its achievement of a superior contrast ratio and a display face that is 50 percent blacker than traditional indoor LED video displays.
"We are honored to have been selected by Peugeot to provide Daktronics latest high-contrast, high-resolution video solution at the world's largest international auto show," said Alain Castelbou, Daktronics International Sales Representative. "The product's jet-black display face provides stunning image detail and deep colors, while offering an ultra-quiet solution for premier events like the Frankfurt Motor Show."
Leading up to the show, Peugeot met with the Daktronics team in the Daktronics France office for a product demonstration of the PST-6i-b. Working with Leni, VPS and Daktronics, Peugeot brought their vision to reality at the 2009 Frankfurt Motor Show.
Contact
Joni Diekmann Daktronics Media Relations tel: 605-691-3639
E-mail:joni.diekmann@daktronics.com
Web Site:www.daktronics.com