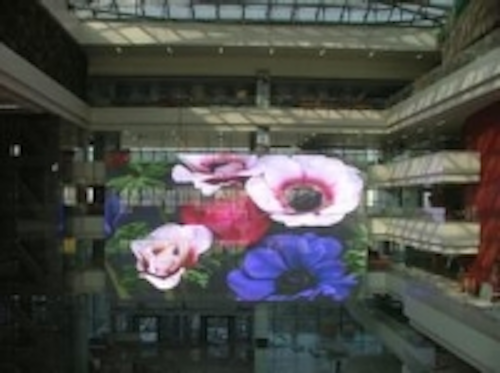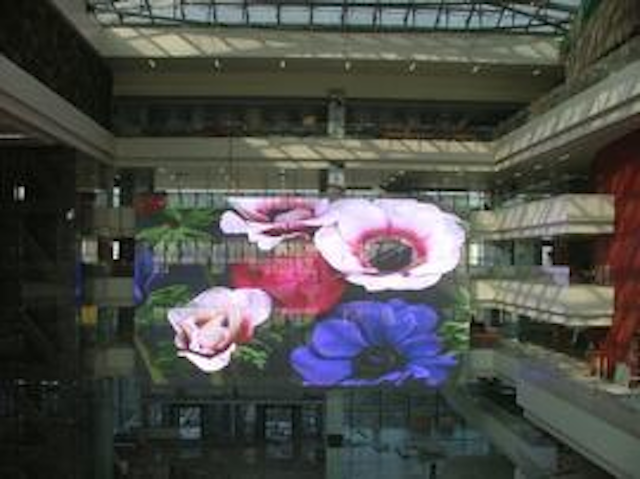 Date Announced: 28 Dec 2009
An LED display was installed in the lobby of the Expo Center Hall. The display was four stories high, covered an area of 400 square meters.
LED display design & maker by Advanced Photonics Company Ltd.
Advanced Photonics Company Ltd. established in 1999. It is a garden factory which is professional in LED chips, LED device and LED lighting products, LED display modules.The company is located in Pudong Jinqiao Export Processing Zone, Shanghai.
During 2010 Shanghai World Expo, Expo Center Hall will be the operational command center, celebration conference center, information center, forum activity center became operational management of the Shanghai World Expo will be the main workplace. "In the Expo Center's design, 'green, energy-saving, environmental protection' is the purpose of architectural design.
LED Display Characteristics:
Transparency:It's a P18 structure LED display,it's transparency is more than 30%. Through the higher resolution achieved a high transparency,the looks like a cross fences curtain,when you stand in front of the LED display,you can see the scenery behind of the LED display.
Viewing angle: The LED display allows for a wide 150 degree symmetrical viewing angle, Standing in the hall can clearly see the image from different viewing angles, not just straight on.
Advanced process technology:modular integrated design,easy to install,disassemble and clean,saving installation time,wiring and other related operations,to facilitate testing to ensure that each module tested prior to assembly,reduce duplication of construction time,and easy to maintain.
Installation of sophisticated:Hoisting structure and light weight of entire screen,the unit LED screeen weighing only 25kg/m2.
By-point correction,PWM pulse width modulation:Low-voltage power supply,less heat,the LED display created new ideas,and notably,it have a higher gray levels with a higher refresh rate in order to achieve different types of cameras, video camera high-qulity photos and video animation.therefore,we use control system,gray level to 16384(after correction),refresh rate≥ 1000HZ, the visual update rate.
Artistic and highlight the Expo Center Hall, the solemn atmosphere, taking into account .
Contact
Add:No.948 Yunqiao Rd., Jinqiao Export Processing Zone, Pudong New Area, Shanghai, P.R.C. Zip code:201206 Tel:86-021-50315688 Fax:86-021-58342361 E-mail:jessiejtu@hotmail.com
E-mail:jessiejtu@hotmail.com
Web Site:www.shapc.com.cn