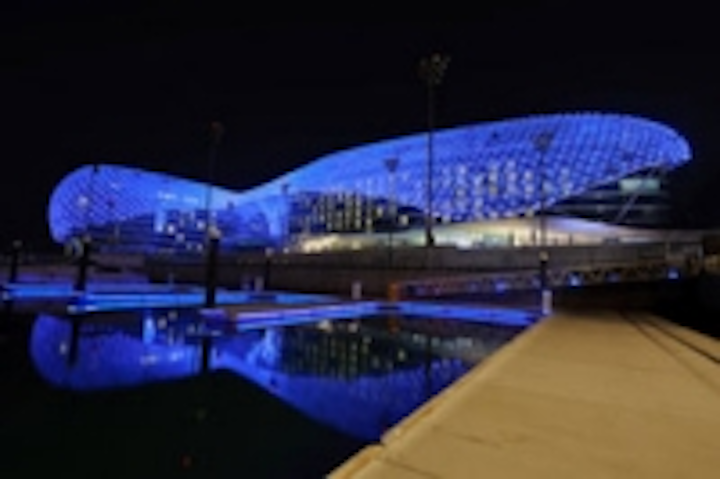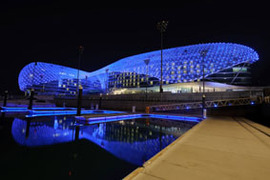 Date Announced: 09 Dec 2009
The LED technology from Enfis Ltd. enabled realisation of iconic structure in Abu Dhabi, the Yas Hotel. The hotel is unique as the only one in the world with a race track running through its centre.
Of architectural and engineering significance is the main feature of the project design, a 217-meter expanse of sweeping, curvilinear forms constructed of steel and over 5,300 pivoting diamond-shaped glass panels which are illuminated via a sophisticated LED lighting system from Enfis Group Plc. The Enfis LED colour-changing shroud can be seen from miles around. It visually connects and fuses the entire hotel, racetrack and marina complex. The inaugural 2009 Formula 1 Etihad Airways Abu Dabi Gran Prix on November 1, 2009, commenced at dusk and finished in the dark to show the building's full potential.
Challenging technical requirements
The desert climate of Abu Dhabi can reach 60oC in the summertime making havoc out of just about every form of light source (incandescent or LED). The Enfis array/driver solutions were the only systems that passed the rigorous environmental chamber trials. Furthermore, Enfis smart drivers and LED technology also offered:
a) The ability to control each LED array, setting them to any desired colour within a 4.2 billion colour palette
b)Two-way communication with each driver/array combination via Enfis software providing real-time monitoring of fixture temperature, CCT and energy consumption
c)Remote Desk Management (RDM) DMX capabilities.
A total of 208.000 LEDs were used on the project making it one of the largest LED projects in the world.
Enfis solutions
Enfis specializes in super-bright solid-state LED lighting arrays that allow for optimum light output and extraordinary heat management. Its products have introduced LEDs to applications that were until recently only possible with traditional lighting sources. Over 5.850 Enfis LED arrays were used. The products consisted primarily of Enfis 4-channel UNO Plus arrays and control drivers integrated into custom designed IP65 rated stainless steel stanchions.
Enfis products are available through AMS Technologies in Europe.
Contact
AMS Technologies AG Fraunhoferstr. 22 82152 Martinsried/Munich Germany Phone 0049 89 895 770
E-mail:salesinfo@ams.de