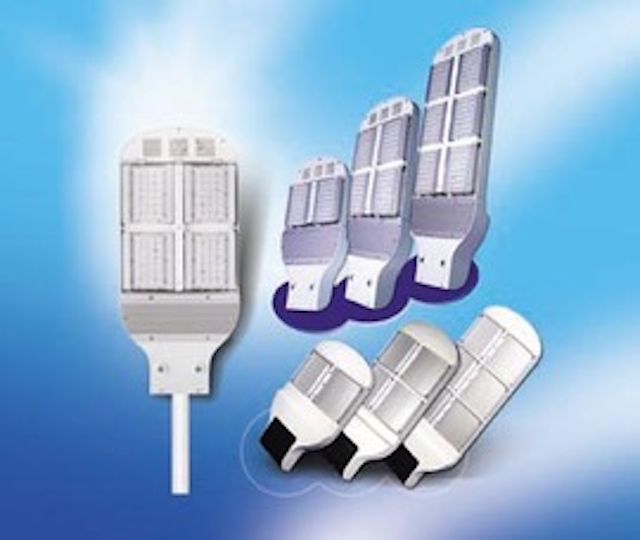 Date Announced: 03 Dec 2009
There are so many types of LED Street Lights on the market, that it may be hard for you make the correct decision. As a professional LED Street Light developing, manufacturing and exporting company, and one of the suppliers among so many LED Street Light factories, we would like to give you a detailed explanation for why you should choose BBE LED:
1. Eutectic Packaging Vs Silver Epoxy Packaging
BBE originated high-power LED eutectic packaging technology and owns the first eutectic LED packaging line in the world. Right now traditional silver epoxy LED packaging is primarily used for high-power LEDs on the market, and is wildly applied to low-power LED packaging. However, it cannot solve well the high-power LED heat dispatch problem, and will lead to the sharp degradation of the LED brightness and lifespan.
2. Modularization vs Sole Plate
BBE originated modularized LED Street Light for easy installation, disassembly and maintenance, but most LED Street Light factories in the market now supply "sole plate" street light, that all the leds are mounted on a single complete plate, and with silver epoxy high power led packaging, the whole street light has to be replaced after some led can't work or the brightness has been degraded, and the replaced LED Street Light can not be reused.
3. Matrix LED Vs Compositive LED
BBE adopts the patented 1W LED Emitter each led as the single light source, and make 28pcs or 24pcs LEDs as a module, which solves the heat problem and possible change problem. Some other factories package many led chips into a super power LED, for example 20W or higher, this is hard for heat dissipation, and once one led chip is broken, the entire "super power" LED can't work. Meanwhile, it is not available for the second light distribution design.
4. Rectangular Beam Pattern vs Round Beam Pattern
BBE created the patent rectangular beam pattern lens especially for the road, making the best use of the LED light source and solve the uniformity of illuminance on the ground. But most other manufacturers are still using the traditional round beam pattern the same as the traditional lamps, it can not efficiently make use of all led light source, and make the center very bright, but very dim at the round, as well make the space between the two closest lamps dark.
5. Creation and Patent vs Duplication and Copy
As an LED Street Light pioneer, BBE always insist in the originated and patent design, close to the market demands, based on the illumination and projects standards from different countries. But most other manufacturers just make modifications simply according to the traditional street lamps, or directly copy the advanced company's experienced design in the LED Street Light field, such manufacturers of simple copy and imitation can not or are not willing to improve constantly the product, and it is hard for them to provide a steady product in quality.
6. Development and Innovation Power
BBE is focused with optics, calorifics, construction, hardware, software, art & craft talents, grouped our own R&D dept. and laboratory, we are in the top range of the development capacity in the LED Street Light field. The copiers in the market can just copy our lamp°Øs shape, but not the concept.
7. Company and Products History
BBE was established in 1998, but the former company was engaged in LED packaging since 1992. We started developing and producing led traffic signal lights from 1998, and launched the developed LED Street Light to the market in 2006, expanded quickly to North America and the global market after we succeeded greatly in Mexico.
8. Market Wideness and Deepness
The BBE high-power LED Street Light was developed according to the market demands, was rapidly accepted in the global market and has had great success. BBE LED Street Light is now sold to more than 130 countries and regions, and will reach 150 till the end of 2009 as expected. BBE has become the manufacturer produced most LED Street Light and BBE is now the most famous brand of LED Street Light in the world.
9. Brand Building and Customer Reputation
BBE also is concerned with building and maintaining the brand. From the establishment of the company, BBE has been positioned as the most famous LED lighting enterprises in the world, and now BBE has become the most popular LED Street Light brand. We are trying our best to make BBE LED a full-series LED lighting product brand, make BBE LED the biggest LED Street Light manufacturer and exporter.
10. Product Character Details
LED Street Light is a public lighting product. Once it is installed, it will be supervised and inspected by the public, so BBE always makes the quality and stability as our top and basic requirement.
11. Process Control and Quality Assurance
To keep the consistency of the product quality, BBE invested millions to build the first automatic LED eutectic packaging line in the world, it not only solves the led packaging, but controls and handles the quality from the origination of the producing. However, most other factories use their up-steam company's finished LED, the most important elements like the quality of the chip, led brightness and color temperature etc., are hard to control.
12. Production Scale and Capacity Guarantee
BBE owns an automatic LED packaging line, hi-speed automatic SMD machine and some assembly lines, plus an automatic aging test line. BBE has the ability fill large LED Street Light orders for projects. High output of production allows us to fulfill the order without your worry. You are welcome to visit us to see the business and cooperation at any time.
13. Company and Social Responsibility
BBE always provides the steady LED Street Light as our responsibility. We still provide the after-sales service for LED traffic signal lights installed when our company was founded in 1998, even though the warranty time expired a long time ago. In addition, BBE will take more social responsibility to improve, and believe that the new BBE will be your most satisfied LED lighting product manufacturer and brand.
14. Sample Test and Pilot Project
Providing the steadiest LED Street Light is always our basic requirement. You are welcome to use and inspect BBE LED Street Light. Not only tested in your lab, but it is best that you install our street light on the road for a real inspection. If you need to make a pilot project in your market, we can provide special discount, technical support and help. You are welcome to discuss such business with us, and this is very helpful and important for you to expand your local market.
15. Marketing Distributor and Deeper Cooperation
Except for the developing, producing and selling LED Street Light, BBE welcomes the companies who are powerful in development, selling or after-sales service to join us. Meanwhile, we can deepen cooperation in different types, such as developing together, regional distributing, building joint venture factory etc. You are invited to visit our website
www.bbeled.com
for more information, please keep contact with us, thank you.
Contact
SHENZHEN BANG-BELL ELECTRONICS CO BLDG C, JINXIONGDA INDUSTRIAL PARK HUAN'GUAN SOUTH RD GUANLAN TOWN, BAO'AN DISTRICT, SHENZHEN, GUANGDONG 518110 China (86-755-2958-8988)
E-mail:JASONYANG@BBELED.COM
Web Site:www.bbeled.com