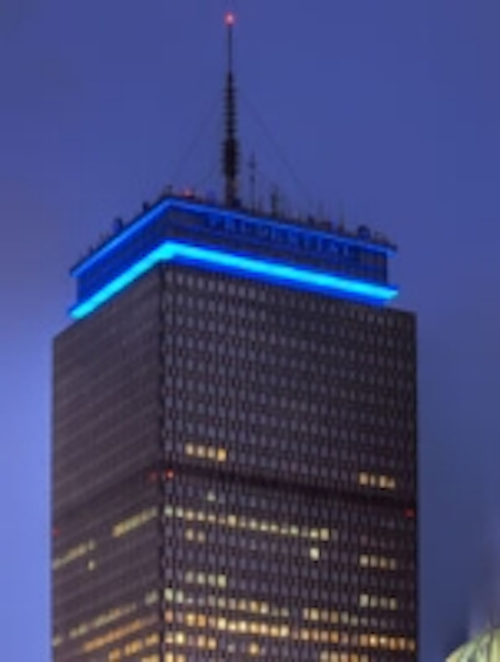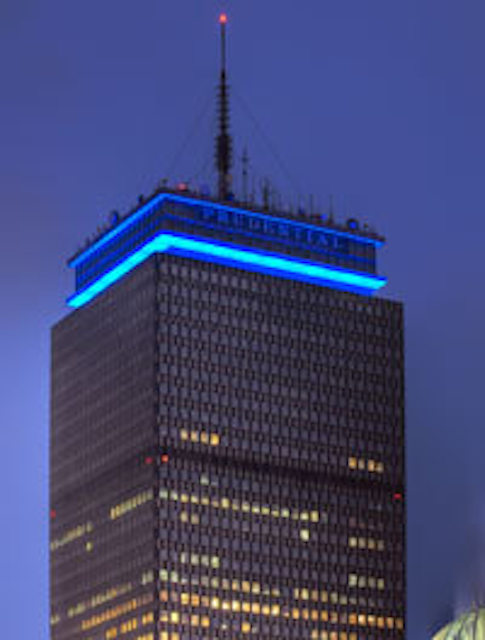 Date Announced: 15 Dec 2009
-- High-performance architectural floodlights illuminate the prominent building just in time for the holiday season
Burlington, MA -- Philips Electronics today added Boston's Prudential Tower to the impressive list of landmark skyscrapers that use its LED lighting fixtures to dynamically transform their façades. The new LED lighting, from Philips Color Kinetics, distinguishes the Prudential Tower along the city skyline, while providing colorful illumination to celebrate local occasions and organizations.
Principals Steven Rosen and Bill Kadra of the Massachusetts lighting design firm Available Light collaborated with Philips Color Kinetics on design, integration and programming. Over 25 ColorReach™ Powercore high-performance LED floodlights were permanently installed on the building's crown, saturating the local landmark with vivid color and color-changing effects. These architectural floodlights are capable of natively generating millions of colors without the need for gels or filters. The color scheme can be changed on the fly to support local events, whether to cheer on a local sports team, celebrate holidays, or reflect the brand colors of individual organizations to promote their events.
"As a Massachusetts-based company, it is an honor to illuminate the Beacon of Boston," said Jeff Cassis, CEO of Philips Color Kinetics. "This installation further demonstrates that LED lighting is a viable and energy-efficient solution for architectural floodlighting, providing vibrant color while eliminating maintenance concerns. We're proud to add such a prestigious landmark to our long list of installations."
Demonstrating the ease with which ColorReach Powercore can match an organization's signature color, The Shops at Prudential Center recently kicked off its '31 Nights of Light' campaign on December 1. Each night in December, ColorReach Powercore floodlights display the brand colors of Boston-area philanthropic organizations. This program increases visibility for the local organizations, while providing a visual focal point for Boston residents and visitors.
"The Prudential Tower has a rich history of illuminating its façade for special Boston occasions," said Bryan Koop, Senior Vice President and Regional Manager at Boston Properties. "In selecting lighting fixtures for this permanent installation, we wanted to maintain the Tower's international prestige, enhance its lighting capabilities, while using an energy-efficient light source. Philips ColorReach Powercore floodlights helped us meet all of our goals."
Philips LED floodlights already create extraordinary visual impact on some of the world's tallest buildings, including the CN Tower in Toronto, the Sky Tower in Auckland, and the EuroMast in Rotterdam.
About Philips Color Kinetics
Philips Color Kinetics transforms environments through dynamic and more efficient uses of light. Its award-winning lighting systems and technologies apply the benefits of LEDs as a highly efficient, long lasting, environmentally friendly, and inherently digital source of illumination - reinventing light itself as a highly controllable medium. Headquartered in Burlington, MA, USA, Philips Color Kinetics is the leading center of innovation and product development for Philips' global LED lighting systems business. The organization also enables widespread adoption of LED lighting through OEM partnerships in diverse markets. More information is available at http://www.colorkinetics.com.
Contact
Philips Color Kinetics 781-418-9277
E-mail:jill.klingler@philips.com
Web Site:www.colorkinetics.com