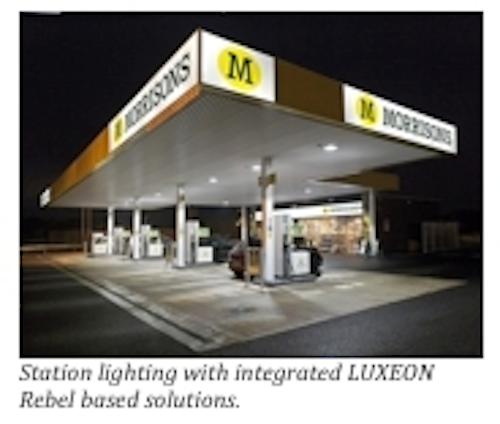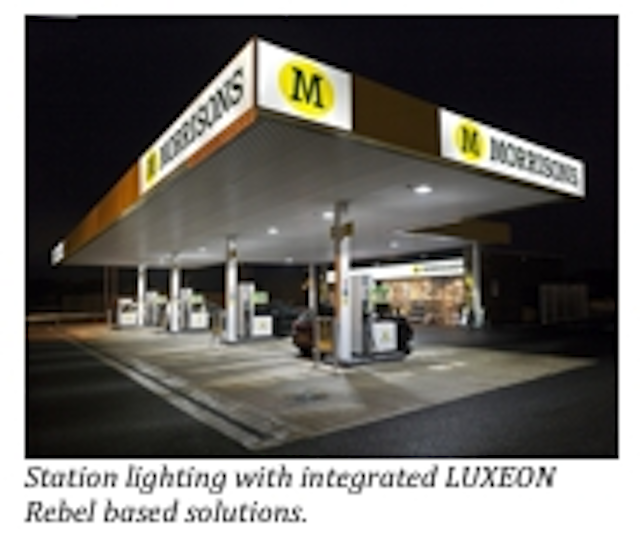 Date Announced: 14 Dec 2009
The promised energy efficiency and savings as a result of LED based lighting solutions is proving a reality at Morrisons' Illingworth gasoline station and convenience market in the United Kingdom.
The solution, created by Philips Lighting, demonstrates the benefits and appropriateness of LUXEON Rebel based luminaires for both internal and external applications. Most importantly, the LUXEON-based solutions from Philips have enabled Morrisons to make substantial energy efficient gains without compromising performance.
The entire site at Illingworth from the canopy and the carwash to the signage and refrigeration cabinets utilizes high power, high efficacy LUXEON Rebel LEDs and Morrisons now enjoys impressive energy savings of approximately 45% across the installation.
Philips Mini 300 luminaires with LUXEON Rebel have replaced the old style 250 W metal halide fittings and by incorporating motion detection, the solution efficacy is further increased. Efficacy gains are not made at the expense of quality illumination.
As Ian Jagger, Group Electrical Services & Environmental Engineering Manager, for Morrisons explains, "We wanted to ensure that within the fuel bay, the petrol pumps are clearly illuminated. Everything is visible, pumps, people, columns and cars. We were extremely impressed with the new LED lighting scheme which has illumination levels almost identical to those achieved using conventional light sources." Indeed, a critical factor for good under canopy lighting is balancing high vertical light levels and natural color rendering to allow visitors to see information with the need not blind drivers with unwanted glare.
The signage requirements on site were realized using the revolutionary new Philips Poster Box Module 300 Series (patent pending) in all of the site's illuminated signs. Aluminium profiles wash light across the sign and make optimal use of the light by re-cycling it in the box. LUXEON Rebel LEDs are used here as well and the result is a uniform light without the stripes usually associated with fluorescent tubes. Not only is energy consumption reduced by over 75%, the long service life of the product contributes to significantly reduced ongoing maintenance costs.
As well as having good levels of illumination across the site, it was also important to create a unified look across both the gas station and the shop itself. Reflecting consistent brand values in retail applications is particularly important, making customers feel at ease and putting them in a buying mood. After all, good lighting is key to a shop's success, large or small. LUXEON power LED technology now enables good visual impact and significantly reduced operating costs. This is a major benefit for gas stations since they have extended hours for customer convenience placing even more demands on lighting. Travelers want to feel safe when making a late-night fuel stop. Station operators in the meantime strive to create an inviting environment that will encourage patrons to browse the station's market before driving on.
At Illingworth, accent lighting for selected merchandise such as driving accessories and seasonal goods was achieved utilizing adjustable 10 W Spot LEDs. The long useful life of the LUXEON LED light sources means that maintenance costs are significantly reduced and no re-lamping should be required throughout the life of the store.
"We are delighted that LUXEON Rebel LEDs are enabling luminaires that deliver energy and maintenance savings without compromising the lighting solution, effectiveness or customers' experience," said Rick Hamburger, Director of Segment Marketing at Philips Lumileds.
About Philips Lumileds
Philips Lumileds is the world's leading provider of power LEDs for illumination solutions. The company's leading light output, efficacy and thermal management are direct results of the ongoing commitment to advancing solid-state lighting technology and enabling lighting solutions that are more environmentally friendly, help reduce CO2 emissions and reduce the need for power plant expansion. Philips Lumileds' LUXEON LEDs are enabling new solutions for shop, outdoor, office, school, and home lighting applications. More information is available at www.philipslumileds.com.
About Royal Philips Electronics
Royal Philips Electronics of the Netherlands (NYSE: PHG, AEX: PHI) is a diversified Health and Well-being company, focused on improving people's lives through timely innovations. As a world leader in healthcare, lifestyle and lighting, Philips integrates technologies and design into people-centric solutions, based on fundamental customer insights and the brand promise of "sense and simplicity". Headquartered in the Netherlands, Philips employs approximately 116,000 employees in more than 60 countries worldwide. With sales of EUR 26 billion in 2008, the company is a market leader in cardiac care, acute care and home healthcare, energy efficient lighting solutions and new lighting applications, as well as lifestyle products for personal well-being and pleasure with strong leadership positions in flat TV, male shaving and grooming, portable entertainment and oral healthcare. News from Philips is located at www.philips.com/newscenter.
Contact
Kristin Miller, SSPR 719-634-8292
E-mail:kmiller@sspr.com
Web Site:www.philipslumileds.com