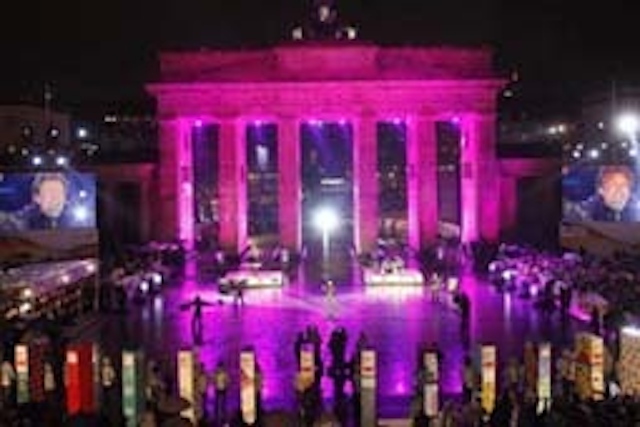 Date Announced: 10 Dec 2009
Germany –- 2009 has seen the 20th anniversary of the fall of the Berlin Wall celebrated in the German capital, culminating on 9th November with a 'Festival of Freedom' at the Brandenburg Gate. With thousands of Berliners wanting to join in and watch speeches by some of the world's leading politicians, Lighthouse LED screens played their part in relaying the celebrations to the vast crowds.
Momentous events in history often turn on insignificant events, and so it was on 9th November 1989 when badly-briefed East German spokesman Günter Schabowski's comments to the media inadvertently led to thousands of East Berliners descending on the Wall's checkpoints and demanding to be let through. The guards had little choice but to acquiesce, and by the following summer the wall and its infamous 'death strip' were rapidly being consigned to history.
20 years later and, with both parts of Berlin and Germany itself long re-unified, the celebrations focused on peace and reconciliation. Although many special events were staged throughout 2009, 9th November was naturally the focal point, with the Brandenburg Gate, one of Berlin's most famous landmarks, highly symbolic for the celebrations.
Wien-based Global Bright Media, supported by AVMS of Potsdam, supplied a total of nine Lighthouse LED screens, three of which were located at the Brandenburg Gate itself.
Each comprised 40m2 of R7-ER panels to provide visual reinforcement for live music, speeches and a symbolic procession through the Gate by many of the world's top politicians, including German chancellor Angela Merkel, herself raised in the former East Germany.
Other events included a recorded video address by US president Barack Obama, fireworks and a chain of 1,000 giant foam dominoes - painted with messages of freedom by young people - being toppled along the line of where the wall stood.
Another 50m2 Lighthouse R16 screen was installed at the Pariser Platz, just to the east of the Brandenburg Gate, while five further 30m2 screens of Lighthouse R7-ER and R16 panels were positioned along the Eberstrasse, which stretches north-south between the Reichstag building, passes the Brandenburg Gate and on to Potsdamer Platz.
All the screens showed the same content. Relayed from an outside broadcast van in HD-SDI, it was delivered to the Lighthouse screens in 16:9 format.
"As the entire event was shot and transmitted by German television in HDTV it was indispensable to utilise Lighthouse LED high resolution screens," says Knut Hackradt of AVMS. "They looked fantastic to the millions watching in Germany and across the world."
"It was an extremely complex job," adds Alex Swatek of Global Bright Media. "Our Lighthouse screens had been in use at the Abu Dhabi Formula One Grand Prix on 1st November, but just three days after we took the panels down, we had them set up in Berlin."
As well as proving the user-friendliness and ease of set up of Lighthouse LED panels, they also had ample chance to demonstrate their excellent reliability in adverse conditions, as continual rain did its best to dampen proceedings in the German capital.
"Despite the logistical challenges and inclement weather, the Lighthouse panels worked flawlessly throughout, giving thousands of Berliners a ringside seat at these most important celebrations," says Massimo Dolce, Lighthouse Munich office director of sales.
"We are very pleased that our panels were able to play a pivotal and successful role in such a positive and high profile celebration."
~END~
Lighthouse Technologies Limited is a global leader in LED display technology that develops, manufactures, and markets LED video display solutions for multiple indoor & outdoor applications, media and entertainment events, and sports arenas across the globe. With numerous technological breakthroughs to its name, Lighthouse has established itself as a multi award-winning leader in the LED display industry that holds itself to the highest standards of quality.
Founded in 1998, Hong Kong-based Lighthouse has a strong global presence with regional offices in Europe, North and South America, the Asia Pacific and China. Employing the most advanced technology, the highest quality manufacturing facilities, and world-class, round-the-clock technical support, Lighthouse satisfies customers on every major continent, captivating the imagination of millions. For more information about Lighthouse, please visit


# # #


Contact
Sarah James Gasoline Media Limited Email: sarahj@gasolinemedia.com

E-mail:info@lighthouse-tech.com

Web Site:www.lighthouse-tech.com