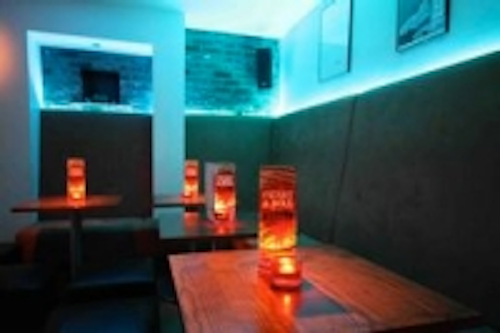 Date Announced: 10 Dec 2009
Fibre Optic Systems Ltd (FOS) have joined forces with Cheshire-based VME Ltd to provide the ever important lighting element to an installation at Altrincham's newest bar, Heart and Soul.
The project went so well, the two companies have decided to link their own hearts and souls - to embark on future sound and light projects together.
FOS supplied DIVAflex LED – RGB colour-changing flexible LED – which was installed by VME to run sound-to-light. DIVAflex also provides a strobing function which the bar uses as the atmosphere heats up later in the evening.
The lighting element, which stylishly highlights and accents the bar and seating areas to provide the stunningly elegant main lighting scheme, joined an initial sound-only installation completed by VME. This featured Kling & Freitag SONA5 compact installation speakers around the seating areas, coupled with Kling & Freitag SW112 compact sub woofers.
In the main room, a more powerful system comprised of 4 Kling & Freitag CA205 mid/high speakers, wall mounted into each corner of the room, supported by an SW112 sub woofer built into the DJ booth, out of plain sight.
The DJ booth hosts two Pioneer CDJ1000MK3s paired through an Allen & Heath XONE:92 DJ mixer with amplification through Yamaha P3500s, processed via DBX 234XL crossovers and DBX 166XL compressor / limiters.
The venue is split into three separate zones, controlled by a Cloud CX-263 zone controller. This enables individual DJs to play the different areas: upstairs for private functions while the DJs downstairs play into the bar and main room area.
VME's Ben Hyman explains, "For some of the bigger events held at Heart and Soul, they hired in some LED fixtures and moving lights, but the popularity of the venue signalled the need for a permanent lighting solution.
"The FOS team of Gordon and Jas were the perfect choice for us. We knew the company well and had complete confidence in the back up we'd receive. The product range is great and combined with the wealth of knowledge that comes as part of the package, FOS suit the kind of installations we're trying to do."
Gordon Addison, FOS technical director, adds "The end result, using FOS's DIVAflex, from the DIVA Range, was visually stunning – and the venue owners are very pleased with the effects. As well as satisfied customers, we have also gained a sound partner for future installations, so the installation at Heart and Soul has been very productive for FOS."
Contact
Gordon Addison Fibre Optic Systems Tel: +44 (0) 113 263 0633
E-mail:gordon@fibreopticsystems.co.uk
Web Site:www.fibreopticsystems.co.uk