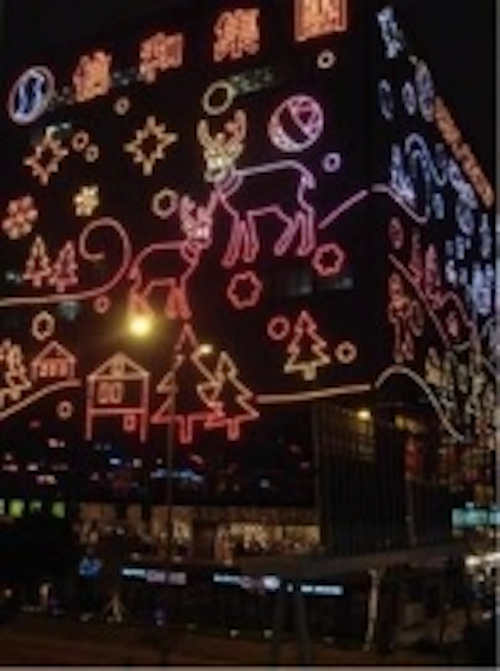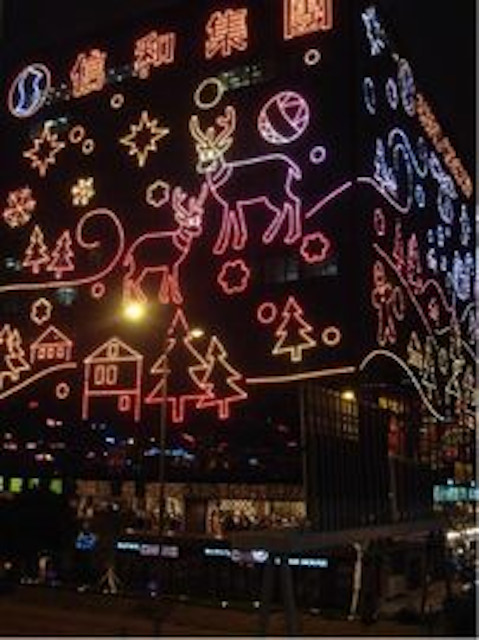 Date Announced: 25 Dec 2009
Hong Kong's Christmas season starts in mid-November when shopping malls, hotels and other commercial buildings switch on millions of bulbs for their seasonal lighting displays.
This year, some buildings have adopted environmentally friendly illuminations in their design concept. The Tsim Sha Tsui Center and the Empire Center are the first buildings in Hong Kong to use LED lighting as Christmas decoration on exterior walls. The lighting design company LEDARTIST chose Traxon Technologies because of its innovative products and its high degree of customization as partner for realizing this huge unique concept.
The combined project consists of more than 18.000 Dot XL-6 and more than 100 Mesh RGB fixtures installed on the facades of the two building as well as on the skywalk connecting the buildings. Traxon's scalable Dot XL-6 fixtures, mounted on a wire frame bent into the shape of the design, offer a stunning multi-color Christmas scenario.
The 4x16 meter installation of Traxon's Mesh RGB fixtures along the skywalk display colorful season's greetings video content in medium resolution. Not being limited to simple on/off functions as most of the traditional decorations are, Traxon's LED lighting fixtures are capable of generating 16 Mio colors as well as video content. Using 80% less energy compared to incandescent light bulbs this installation is a lot more than only a beautiful festive display.
Contact
Sheron Lai International Marketing Assistant Traxon Technologies Ltd., An OSRAM Company 208 Wireless Centre, 3 Science Park East Avenue, Hong Kong Science Park, Shatin, Hong Kong Tel. +852 2943 3488 Direct +852 2943 3411 Fax +852 2480 4460
E-mail:sheron.lai@traxontechnologies.com
Web Site:www.traxontechnologies.com