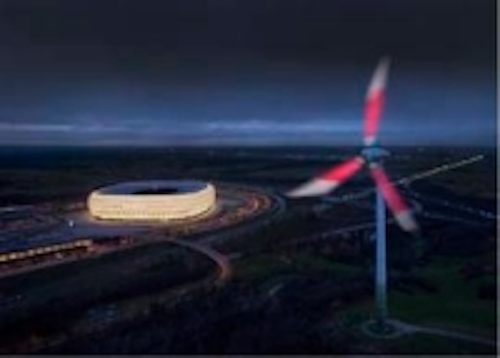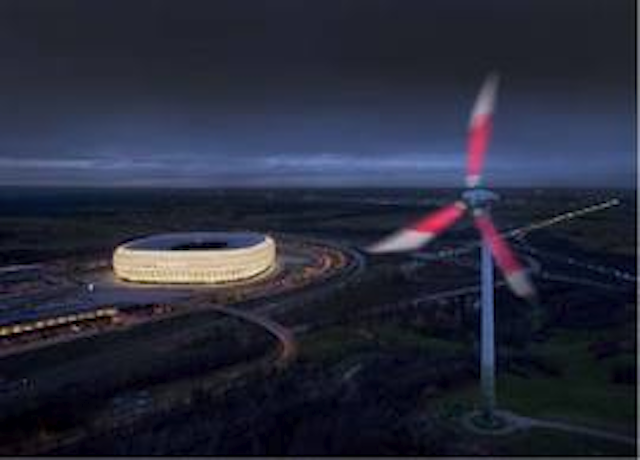 Date Announced: 21 Dec 2009
Munich has a new landmark for this year's Christmas season: a giant revolving Christmas star. Traxon Technologies innovative lighting fixtures were used to turn an ordinary windmill into sensational LED artwork. The span of the world's biggest revolving media screen is nearly 70 meters equipped with over 1,000 ultra bright Traxon Dot XL-9 lighting fixtures displaying a multitude of stunning colors as well as medium-resolution video content. The lighting installation can be seen throughout December 2009 at the northern gateway to Munich – beginning at dusk every evening.
Traxon Technologies in cooperation with its parent companies Osram and Siemens developed and completed this ground-breaking technological project together with multimedia artist Michael Pendry over the past months. Visible from a distance of up to 30 kilometers the LED windmill is a pioneering installation and a symbol for green energy as well as worldwide climate protection. "Green innovations are lighting our way to a better future," said Siemens President and CEO Peter Löscher, referring to the great energy efficiency of LED lighting. The installation consists of 1,000 Dot XL-9 lighting fixtures (9,000 LEDs) that are as bright as around 20,000 Christmas candles. Yet the entire system uses only as much electricity as one hair dryer or two water kettles.
Besides the difficult winter- weather conditions the challenge was to implement an installation on a constantly rotating object. Artist Michael Pendry chose Traxon Technologies as partner for realizing this spectacular project due to its innovative and customizable lighting solutions. Traxon's IP67-rated Dot XL offers exactly the flexibility needed for this demanding project. Available with 3, 6 or 9 high performance LEDs per dot casing the single controllable dots are mounted on an elastic cable with customizable pitch offering the possibility to be installed on almost any surface or three dimensional shape. Furthermore the Dot XL has a robust casing that ensures full outdoor capability. Since under windy conditions the lighting fixtures are subject to forces up to 20 G, the Dot XLs were sticked to the wind turbine blades with superglue used in space. Controllable by DMX as well as DVI input signals Traxon's Dot XL displays full color lighting effects and spectacular video animations. The programming of the Christmas stars lighting alone took two full days. The animation effects needed to be coordinated in real time with the various strengths of the wind and speed of the wind turbine itself. A technical masterpiece!
Contact
Sheron Lai International Marketing Assistant Traxon Technologies Ltd., An OSRAM Company 208 Wireless Centre, 3 Science Park East Avenue, Hong Kong Science Park, Shatin, Hong Kong Tel. +852 2943 3488 Direct +852 2943 3411 Fax +852 2480 4460
E-mail:sheron.lai@traxontechnologies.com
Web Site:www.traxontechnologies.com