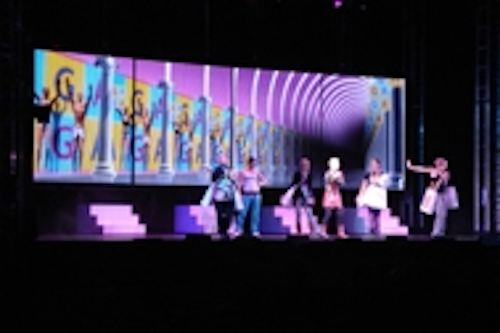 Date Announced: 15 Dec 2009
We Will Rock You, the worldwide hit musical featuring Queen's legendary hits, opens to audiences at the Allianz Theatre in Milan from December 4, 2009 to January 6, 2010.
Once again the displayLED team is delighted to be involved in the action on stage and has supplied 4 digiLED screens to the latest production. The team's history with the WWRY production team goes back a long time as Guy Horrigan supplied the LED screens for WWRY's original show in London's Dominion Theatre, tours in Australia and Japan, and the Cologne, Zurich and the US residencies, the later being at Las Vegas' Paris Casino. Bob Kronman was Head of LED with the show at the Dominion Theatre and later installed the LED screens in Melbourne, Australia for the tours first residency and in Zurich for its successful run there.
In this latest production, four digiLED Tile screens will create a dramatic backdrop of video, animation and spectacular lighting effects. Each Ti10S 10mm SMD pixel pitch screen measures 2.4m wide x 2.7m high configured from 3 x 3 'fast-rig' digiLED Frames each measuring 800mm (w) x 900mm (h). Key to the production team's choice of video screens was weight. The Allianz Theatre's stage requirements meant that the screens needed to be lightweight and a target of 300kgs was set. The digiLED Tile proved to be the best option coming in at 264kg including LED tiles, digiLED Frames, hanging system, cabling and power racks.
Available in a range of pixel pitches from 6mm to 30mm, the digiLED Tile series is suitable for a vast range of fixed and rental applications such as sports stadia, music tours, outdoor advertising and architectural projects. Because of its modular tile design, it is also suitable for more creative applications such as curved displays or innovative set designs for live events and TV studios.
With brightness levels of up to 5,800nits, the digiLED Tile system delivers clear, crisp images with fantastic black levels. The Tile series is also available with a range of LED types offering up to 50% less power consumption than the current generation of LED products.
The beauty of the digiLED Tile series is that the tiles are universal, whether 6mm or 30mm, the tiles have the same housing, components and cabling. This means that screens can be made up of a combination of pixel pitches. Each tile measures 400mm wide x 300mm high and is only 82mm deep. For rental and touring applications the tiles can be easily mounted in a 'fast-rig' digiLED Frame giving a module size of 800mm x 900mm, and depending on module can be accessed from the front or rear for servicing. At only 23kg per square metre, the 'fast-rig' digiLED Frame and Tiles are one of the lightest rental options in the current market.
"We are delighted to be involved with WWRY once more. A year ago, if we had been asked to send this amount of equipment out with the weight constraints specified it would have been a very short conversation. But with the breakthroughs realised by our design engineers we are making life on stage easier for everyone, and hopefully we can look forward to helping many more tours in the future," says Guy Horrigan, Sales Director.
"The screens look fantastic and we're amazed how lightweight they are, we were working to strict weight regulations and the digiLED products were the only ones suitable for the job. It was a pleasure to be working with the displayLED team again," says Ted Irwin, We Will Rock You.
Contact
Sian Sparkes +44 (0) 207 381 7840
E-mail:info@displayLED.com
Web Site:www.displayLED.com