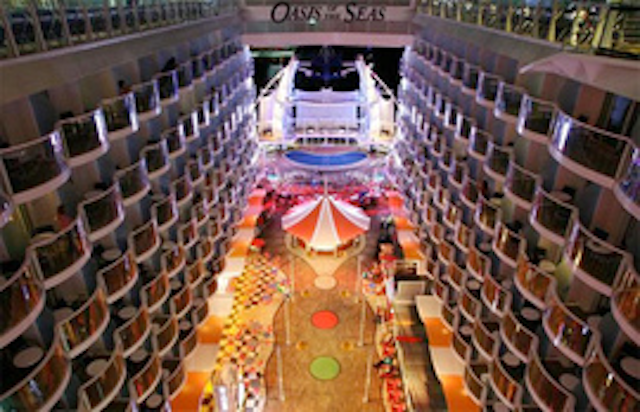 Date Announced: 10 Dec 2009
Wellington, FL - LED Source, working closely with Project Manager, Derek Warner of Funa International, equipped Royal Caribbean Cruise Line's Oasis of the Seas with the latest in LED lighting technology. The ship left on its maiden voyage on Saturday December 5th from Port Everglades in Fort Lauderdale, FL.
LED Lighting has been incorporated into the seven themed "neighborhoods" on this ship, the largest cruise ship to date. Most visible of these areas is the stunning oceanfront Aqua Theater, where LED Source supplied 40 Color Reach Powercore fixtures to light the area that holds center-stage on this amazing ship.
Color Graze Powercores were used to line the Solarium, located in the Vitality at Sea Spa and Fitness zone. In the Outdoor Teen area, located in the Youth Zone, Color Blast Powercores wash the area in vibrant color. The Graze Night Club incorporates iColor Cove QLX and the Rising Tide Bar, an elevator bar that rises (and drops) between two of the neighborhoods, features the iColor Flex LMX, one of the very first installations of this NEW product.
In only 4 years, LED Source have managed to create one of the most extensive LED distribution networks in North America. The company is now taking things to a whole other level by extending their premier national LED Lighting Distribution brand by way of Franchising.
For LED lighting solutions or more information on LED Source Franchise opportunities, contact LED Source at 866-900-4LED or e-mail marketing@ledsource.com.
Contact
Claudette Cyr Director of Marketing Direct Line: 561-578-4402 3101 Fairlane Farms Road, Suite 4 Wellington, FL • 33414
E-mail:marketing@ledsource.com