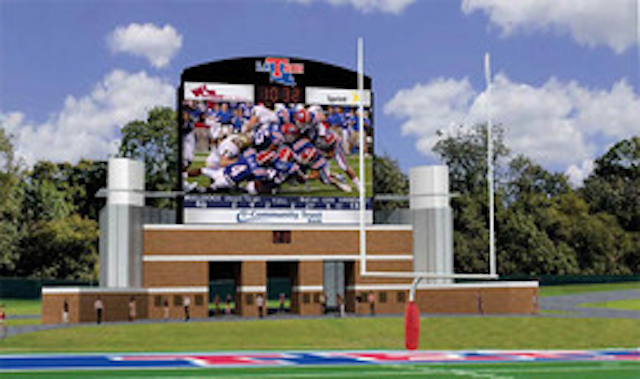 Date Announced: 30 Jun 2009
BROOKINGS, S.D. –– Daktronics Inc. (Nasdaq-DAKT) of Brookings, S.D., announced it was recently chosen by Louisiana Tech University in Ruston, La., to design, manufacture and install a new light emitting diode (LED) video and scoring system at Joe Aillet Stadium, home of Bulldogs football.
"We are excited to partner with Daktronics for this project, given their reputation in college athletics as the leader in video board technology," Tech Athletic Director and Head Football Coach Derek Dooley said. "In a continuing effort to serve our fans, we are thrilled that our dreams of a high quality board are now becoming a reality. It will transform our game-day experience into the most exciting three hours of entertainment in North Louisiana."
Louisiana Tech's new HD-X display board will be the largest in the Western Athletic Conference, measuring 25 feet tall by 45 feet wide. The 16mm board's technology and its control system will allow for complete flexibility in programming. The video board will be capable of operating as a single giant display or divided into multiple zones (windows) to show a wide variety of statistics, information, graphics, animation and live and recorded video.
Two Daktronics 23mm video displays, each measuring approximately four feet high by 45 feet wide, will also be installed, offering more visibility and opportunities for sponsors and advertisers. A custom LED scoreboard will also add to the exciting game-day environment at the opposite end of the stadium.
Along with the video, messaging and scoring system, Daktronics will also install a custom Sportsound® sound system. When combined with Daktronics scoreboard and video display options, it will deliver pounding bass energy, smooth mid and high range frequencies and high impact entertainment through the integration of audio, video and scoring technologies.
"With the addition of Daktronics HD-16 product, Louisiana Tech will have the latest in video technology that is comparable to what many BCS schools have installed in the past few years," said Dan Fjeldheim, Daktronics Sales. "Daktronics is very grateful of the opportunity to partner with Louisiana Tech."
About Louisiana Tech University Football
Starting with its very first game in 1901, Louisiana Tech has become a household name in collegiate football circles. Over the years, Louisiana Tech has produced 22 conference titles, 50 All-Americans, numerous professional players – including NFL Hall of Famers Terry Bradshaw and Fred Dean – and two national championship titles. Most recently, Louisiana Tech captured the 2008 Independence Bowl title with a 17-10 win over Northern Illinois in Shreveport, La. This year's players and coaches should only add to an already impressive resume. Although so much emphasis is placed on the present, with 106 seasons of Tech football in the record books, it's important to remember so many great memories, players and coaches that have already made Tech's history on the gridiron successful.
About Daktronics
Daktronics is recognized as the world's leading provider of full-color LED video displays. Daktronics began manufacturing large screen, full-color, LED video displays in 1997. Since then, over 5,600 large screen video displays have been sold and installed in sporting and commercial facilities around the world. Since 2001, independent market research conducted by iSuppli Corp. lists Daktronics as the world's leading provider of large screen LED video displays.
Daktronics has strong leadership positions in, and is the world's largest supplier of, large screen video displays, electronic scoreboards, computer-programmable displays, digital billboards, and control systems. The company excels in the control of large display systems, including those that require integration of multiple complex displays showing real-time information, graphics, animation and video. Daktronics designs, manufactures, markets and services display systems for customers around the world, in sport, business and transportation applications. For more information, visit the company's World Wide Web site at: http://www.daktronics.com, e-mail the company at sales@daktronics.com, call (605) 697-4300 or toll-free (800) 325-8766 in the United States or write to the company at 331 32nd Ave. PO Box 5128 Brookings, S.D. 57006-5128.
Cautionary Notice: In addition to statements of historical fact, this news release contains forward-looking statements within the meaning of the Private Securities Litigation Reform Act of 1995 and are intended to enjoy the protection of that Act. These forward-looking statements reflect the Company's expectations or beliefs concerning future events. The Company cautions that these and similar statements involve risk and uncertainties which could cause actual results to differ materially from our expectation, including, but not limited to, changes in economic and market conditions, management of growth, timing and magnitude of future contracts, and other risks noted in the company's SEC filings, including its Annual Report on Form 10-K for its 2009 fiscal year and its Quarterly Reports on Form 10-Q for the quarters ended August 2, 2008, November 1, 2008 and January 31, 2009. Forward-looking statements are made in the context of information available as of the date stated. The Company undertakes no obligation to update or revise such statements to reflect new circumstances or unanticipated events as they occur.
- END –
Contact
Mark Steinkamp Daktronics Large Sports Venues Group tel 1-605-697-4300 mark.steinkamp@daktronics.com
E-mail:sales@daktronics.com
Web Site:www.daktronics.com