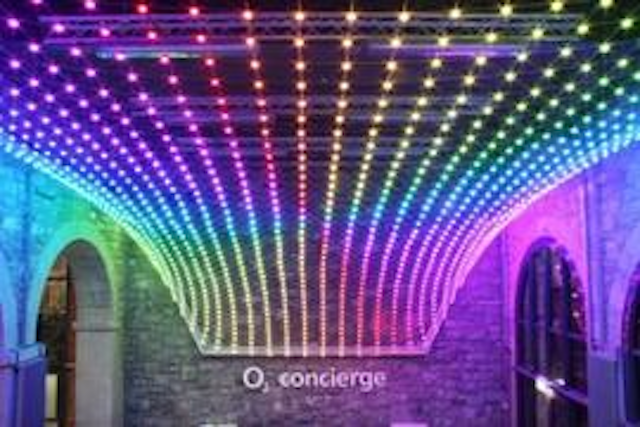 Date Announced: 01 Jun 2009
Architen Lighting has installed a multi dimensional mesh incorporating over 6000 LEDs in the concierge area at Dublin's newest entertainment venue, The O2 Dublin.
The first of its kind, the tensioned LED mesh is a striking feature which held lots of exciting challenges at the outset of the project. Christopher Rowell, project manager for Architen Lighting was keen to overcome the potential challenges: 'We approached the project by combining techniques used in our tensile structures division and applying our technical knowledge of lighting control. The complexity of the shape intertwined with how to get power and data to each individual LED was the driving force behind developing a new approach lighting system.
At each node a small nylon block was used to fix the two cables in place and each position was unique according to the node position in the 3D mesh. Also incorporated into the nodes were the LEDs themselves: each LED with the three primary colours, Red, Green and Blue, allows for full colour mixing to achieve maximum flexibility.
The power supply for the LEDs is sent across the mesh cables themselves. 24v DC is picked up from the two support cables the passed to the LED board. The complicated task was trying to transmit data across the two power cables. The team came up with the inspired method of encapsulating the data and power together which reduced the number of cables required. Architen Lighting enlisted the help of Glasson Electronics to complete the job with maximum efficiency.
The graphics and effects are provided by a Pharos LPC X controller which outputs over 5,000 control channels via a Pathport ethernet backbone. At commissioning Architen Lighting's Christopher Rowell and Architect Sean Karns programmed a number of different effects from the unlimited possibilities. The controller automatically chooses an effect based on the day and time of the show. The control system also has a GPRS modem to allow for remote changes and control. Management can log onto the webpage and turn on or change the effects from a desk in London or a beach in the Caribbean!
Contact
Amy Wilson/Christopher Rowell Architen Lighting t: +44(0)1291 638200
E-mail:mail@architenlighting.com
Web Site:www.architenlighting.com