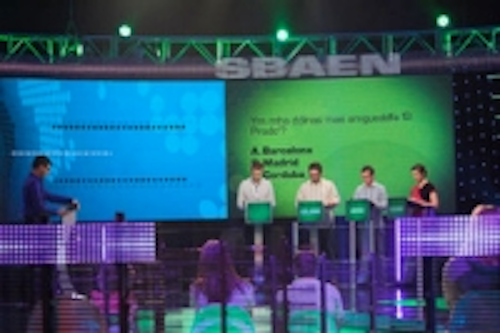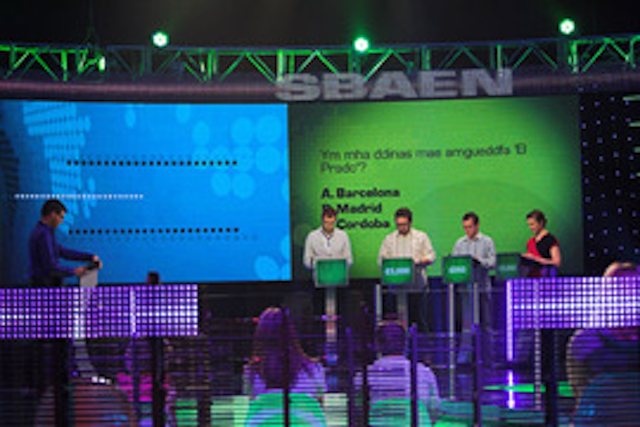 Date Announced: 02 Jun 2009
HSL supplied moving and digital lights plus LED elements to the latest series of "0 ond 1", a Welsh language travel quiz show produced by Boomerang for S4C. The rig was specified by lighting designer Martyn Rourke and the 8 shows were recorded in a week at Omni Studios near Cardiff, Wales.
Rourke's rig included 30 Robe ColorWash 700E AT and 4 Vari*Lite VL 3000 Spot moving lights, CK iColor Tiles, ColorWeb LED panels and SoftLED cloths as well as 30 ETC Source Fours, i-Pix BB7s, JTE Pixel PARs, trussing and lighting control - all supplied by HSL.
HSL won the tender to supply the kit, and Rourke comments, "They offered all the kit at the best price - and along with that came the great HSL service as always". The account was handled by HSL's TV specialist, Sean McGlone.
The show was shot on a 360 degree set designed by Sid Scott. The 12 initial contestants where whittled down to 4 then 2 and during this process they continually moved between their own custom podiums - each individually backlit with a 'window' of MiTrix LED - a catwalk, the stage and the audience.
The original creative brief from Boomerang was to make it resemble an airline check in terminal - which gave Rourke plenty of scope for visual trickery with the various LED surfaces - and he also wanted the lighting to be glossy, contemporary and to evoke some large, airy dramatic looks.
He created different moods and atmospheric moments for the various parts of the show - arrows running up and down the catwalk echoed a baggage carousel theme, and MiStrip LEDs down the outside of the centre walkway resembled runway lights, giving a taking off and landing feel, "Simple, possibly a little cheesy, but it really worked," comments Rourke with a giggle!
The 64 i-Tiles were integrated into the catwalk/runway in the centre of the set beneath the floor, and used to produce a spinning globe effect amongst other things, from video content stored on a Catalyst media server.
The MiTrix panels behind each contestant's podium chair were used for many functions, including highlighting those who pushed their buttons first or who were going through to play the next rounds. Graphics from the Catalyst were also displayed on these.
The Robes and the Vari*Lites were used to illuminate the contestants in a clean down lit trajectory, augmented with a whole range of studio 1 and 2K fresnels.
A 15 metre diameter circular truss from HSL was wrapped in MiTrix, and toned with PixelPAR 90s, and 8 i-Pix BB7s were positioned behind the audience and contestants along with 3 hi res 10 x 2 metre strips of SoftLED cloth.
The two 6 by 3 metre panels of ColorWeb were mounted horizontally behind 4 MiStrip clad towers which formed a big 'scoop', accentuating the depth and 3 dimensional feel of these areas and averting any black holes behind. The moving, conventional and digital lighting and all the LED products were all run as one harmonious visual 'big picture' show. "The whole idea was to keep everything pacey and interesting throughout," explains Rourke, who specifically wanted to interplay the dynamics and different texturing of the various sources, "All these elements can coexist and complement one another and also provide truly stimulating contrasts," he says. "That's exactly what you need when shooting 8 episodes in such a compressed timescale".
For control, HSL supplied two WholeHog consoles - a Hog 2 and a Hog 3. Rourke ran all the moving and digital lights off the Hog 3 which also triggered the two Catalysts supplied by Ross Williams driving the MiTrix, MiStrip, SoftLED and i-Tiles. The ColorWeb was run straight DMX. Chris Banks operated the Hog 2 which was hooked into all the studio lights, and the other 2 members of Rourke's crew were Simon Deary (LED tech) and Rob James.
HSL and Rourke have worked together on many other projects, and Sean McGlone comments, "Obviously it was great to be working with Martyn again. his designs are always inventive, good looking and a bit different."
Contact
Louise Stickland +44 (0)1865 202679/+44 (0)7831 329888
E-mail:louise@loosplat.com
Web Site:www.hslgroup.com