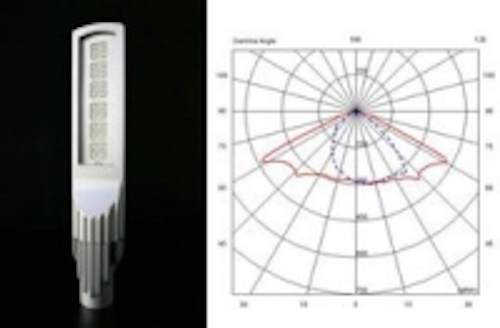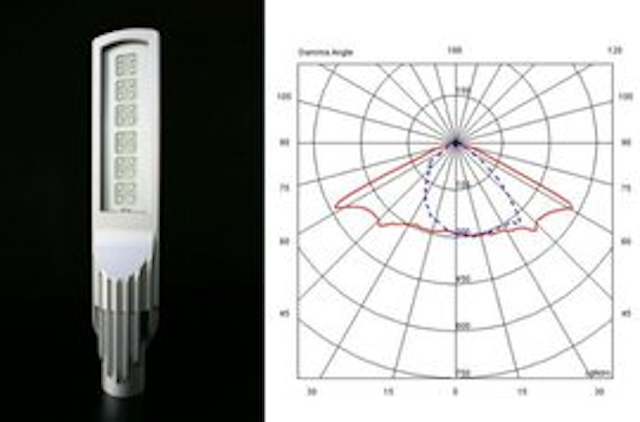 Date Announced: 26 Jun 2009
Applications:
Outdoor lighting, for example alley lighting, park lighting, solar lighting, street lighting.
Features:
(1) Optical
Batwing beam patterns design with IESNA classification of type II, short and cut-off. The pole pitch is up to 4 mounting height with uniform illuminance distribution.
(2) Power
Switching mode and multiple channel constant current design to drive the individual LEDs series connected circuit to ensure LED constant current loading. Over-heat and –voltage protection designs, self-thermal compensation ensured LED life. DC to DC power efficiency can reach 89%.
(3) Thermal
Optimal thermal design of the luminaire and surface temperature to achieve 55°C at 30°C ambient and still air condition, 2°C temperature variation on sink base and LED junction temperature is controlled below 70°C. Overheat protection design, the LED current self- adjusted as sink base temperature reaches 70°C.
(4) Luminaire efficacy
Super high brightness, the total luminaire efficacy achieves 74.5 lm/W (not including AC to DC circuit power consumption).
LED Light Source: Nichia 083(BT) x 24 ea
Beam Angle: Type II, Short, Cut off
Color Temp.: 5200±400 / 3000±300K
Input Voltage: 12Vdc or 24Vdc
Power Consumption: 26W
Operation Temp: -30°C~50°C
IP Rating: IP65
Net Weight: 2.1kg
Output Lumens(Typ.): 1789/1430
Contact
TEL: + 886-3-555-1100 FAX: + 886-3-555-5050
E-mail:ledsmagazine@aoptk.com
Web Site:www.aoptk.com