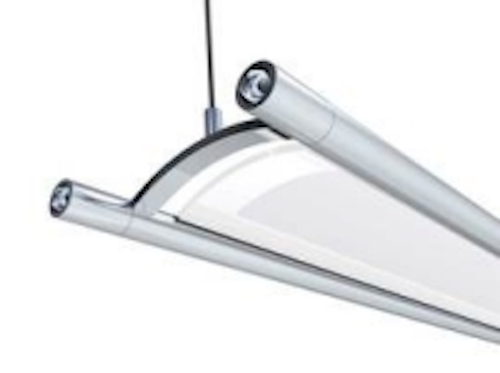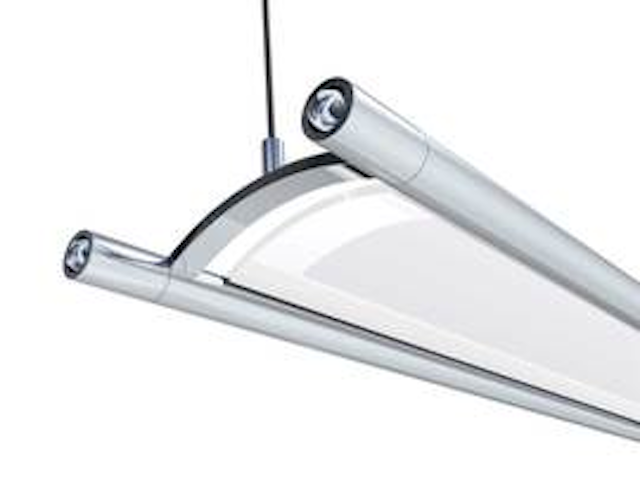 Date Announced: 23 Jun 2009
NEW YORK -– At the LightFair International 2009 trade show and conference, PEERLESS® Lighting received a Design Innovation Award and Best in Category for its kite™ indirect/direct luminaire. The Innovation Awards recognize the most significant advances in lighting technology as awarded by a judging panel of lighting industry professionals.
The PEERLESS kite was awarded one of the top honors with the Design Excellence Award recognizing outstanding achievement in design and application. It was also awarded the Best in Category award recognizing excellence in the individual product category of Fluorescent troffers, suspended and surface luminaires.
PEERLESS Lighting continues to bring innovations to market with the introduction of kite -- a indirect/direct luminaire with an edge-lighted optic that blends LED point sources into a uniform, glare-free window of 3500K, 85 CRI light. kite by Peerless elegantly solves the challenge of how to provide high performance lighting in commercial offices and classrooms with an LED source.
An indirect/direct suspended luminaire, kite couples LED technology with sophisticated light extractor optics. The edge-lit optic converts multiple LED point sources into a uniform, glare-free window of light without a direct line of sight to the source. Each four-foot section yields a nominal 4000 lumens, comparable to a fluorescent luminaire with a single T5HO lamp. The diffuse appearance of the floating optic defies the fact that light is emitted directionally to meet IES RP-1 criteria. Individually spaced luminaires effectively light an environment to meet the power density requirements of ASHRAE 90.1.
Order kite with a warm white source to provide the equivalent color temperature and color rendering index of a typically specified fluorescent lamp. Add drama to a space with a tricolor source to generate color-changing scenes. kite succinctly coordinates LED system parameters such as power conversion, circuit design, thermal management and optics to deliver peak performance and long life.
► PEERLESS Lighting | kite | www.peerless-lighting.com
Contact
CFW Marketing Communications Cindy Foster-Warthen, Principal cindy@cfwevents.com Meggan Kessler, Product Manager m.kessler@peerless-lighting.com
E-mail:cindy@cfwevents.com
Web Site:www.peerless-lighting.com