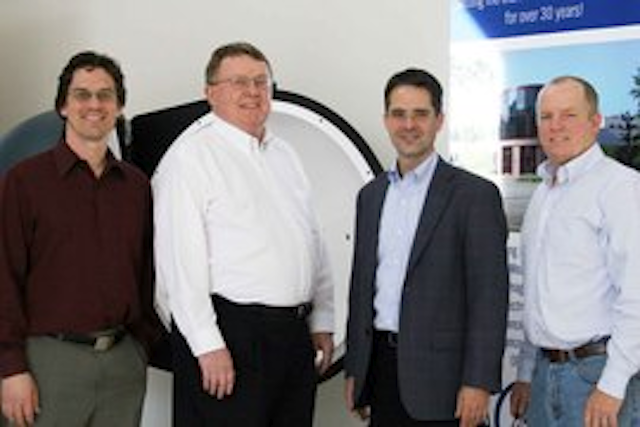 Date Announced: 04 Jun 2009
Partnership brings new product development, production and sales opportunities
North Sutton, New Hampshire and Kirkland, Washington (June 4, 2009) – Light measurement companies Labsphere and Orb Optronix have announced a far-reaching collaboration to encompass product development, manufacturing and distribution.
Under the new agreement, select Orb Optronix LED test instrumentation will be manufactured at Labsphere's New Hampshire facility. The two companies will cooperate on the development of a broad range of new LED, display and light metrology products. Orb Optronix also plans to expand its thriving LED measurement services laboratory with the addition of several Labsphere systems.
In addition, the companies will now share sales channels. Orb Optronix's LED characterization systems and software will be sold through Labsphere's worldwide sales organization while Labsphere products will be available through Orb Optronix's United States distribution network.
Orb Optronix President Dave Jenkins commented, "We've developed strong product design relationships with a number of high profile companies through our Engineering Services Group and LED Measurement Laboratory. Now that we are ready to release hardware and software targeted at the LED test and measurement markets, we've partnered with the premier light metrology organization and look forward to a long and fulfilling distribution and product development relationship with Labsphere."
"Dave Jenkins and his partners and associates at Orb Optronix have built a world-class product development organization in an incredibly short time," adds Labsphere President Kevin Chittim. "We believe the partnership between Orb and Labsphere will offer our customers incredible benefits in terms of innovation, customer service and value. In addition, Orb's Washington location will allow us to provide expanded measurement services capability in the Western United States."
About Labsphere
Part of the global Halma group of technology companies, Labsphere (www.labsphere.com) is a world leader in light testing and measurement and diffuse optical coatings. The company's products include LED, laser and traditional light source light measurement systems; uniform light sources for imaging device calibration; spectroscopy accessories; and high diffuse reflectance materials and coatings for applications in backlit panel displays, computed radiography, and system calibration. The company's expertise has resulted in multiple patents in areas such as methods for testing LEDs on a wafer and UV transmittance.
About Orb Optronix
Orb Optronix, founded in 2006, provides world-class engineering services and products for the illumination, optical and opto-electronic industries through its LED Technology Center, Engineering Services Group and Product Development Group.
Contact
Orb Optronix
E-mail:leonard@orboptronix.com
Web Site:www.orboptronix.com