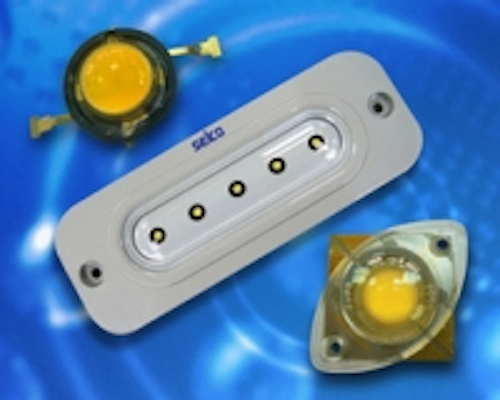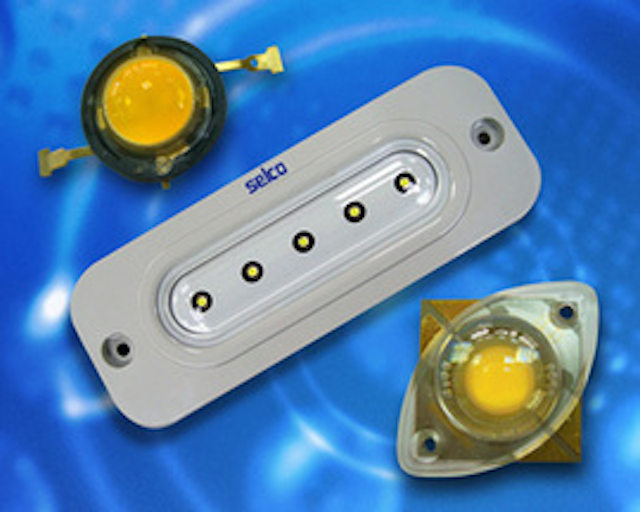 Date Announced: 10 Jun 2009
RENO, NV. – June 2, 2009 – Selco Products Company has expanded its product offering to include the new CL Series LED Lighting Assemblies and Single Package LED Components. Both product lines feature high-bright lighting and low power consumption suitable for a variety of applications.
The CL Series Assemblies are self-contained electronically controlled lighting fixtures that emit a constant light output of 240 to 400 Lumens (depending on model) with wide input voltages ranging between 9-29 VDC. Power consumption is only 4.3 Watts for the 240 Lumens output model and 7.1 Watts for the 400 Lumen output model.
The new LED Assemblies are aimed at aftermarket users as well as manufacturers of freight trucks/trains, trailers, boats, campers/RVs, mass transit systems, and emergency vehicles.
The assemblies are also suitable for any low voltage applications such as solar, outdoor security, and remote access lighting, or virtually any lighting requirement where long life, ultra-low power and 160 degrees of optical light emission is desired.
Further application versatility is provided with an inexpensive AC-DC converter power source (9-29V DC output) that allows use with batteries.
Designed for rugged environments, Selco's CL Series LED Lighting Assemblies feature high vibration, shock resistance, a wide operating temperature range of ‒40 to +60 C, and waterproof housing (meets IP69K High temperature salt water pressure cleaning specifications/ SGS Approved). Having a low profile of only 0.5", just two mounting screws, and auto polarity connectivity ‒ installation is fast and easy. Providing optimum safety, the new lighting assemblies do not emit any IR or UV and contain no glass or toxic substance such as mercury. Modified and customize assemblies with private labelling are also available.
Selco's other LED products include single LED packages from 0.5W to 5 Watts with flux output up to 330 Lumens and are available in Warm, Neutral, and Cool White. The 1 Watt packages are available in Red, Green, Yellow, and Blue lighting, The HB-LED 3 Watt and 5 Watt packages incorporate LED dice with copper substrates mounted on primary copper heat sinks. The copper enhances the thermal dissipation of heat away from the LED junction, providing long life and maximizes light output. Target markets include high intensity backlighting, recessed-spot-flood lighting, decorative/accent, signal/ orientation, architectural/landscaping, security, and medical lighting.
"Selco already has a proven track-record in customizing thermal components to meet specific customer requirements," explains Peter Ranalli, Selco Vice President. "We have now taken this approach one step further with our new LED Lighting Assemblies and individual LED Package Components.
However, Ranalli adds, "Selco has always been a value added company with emphasis on specific customer needs. Our LED Lighting product offering will include complete custom LED assemblies and lighting fixtures that incorporate electronic drive circuitry, thermal management, and even customized optics. The customer supplies the specification requirements, and Selco provides the complete LED Lighting solution."
Contact
Selco Products Company 8780 Technology Way, Reno, NV 89521-5908 Tel: (775)-674-5100 Toll Free: (800)-257-3526 Fax: (775)-674-5111
E-mail:ccody@selcoproducts.com