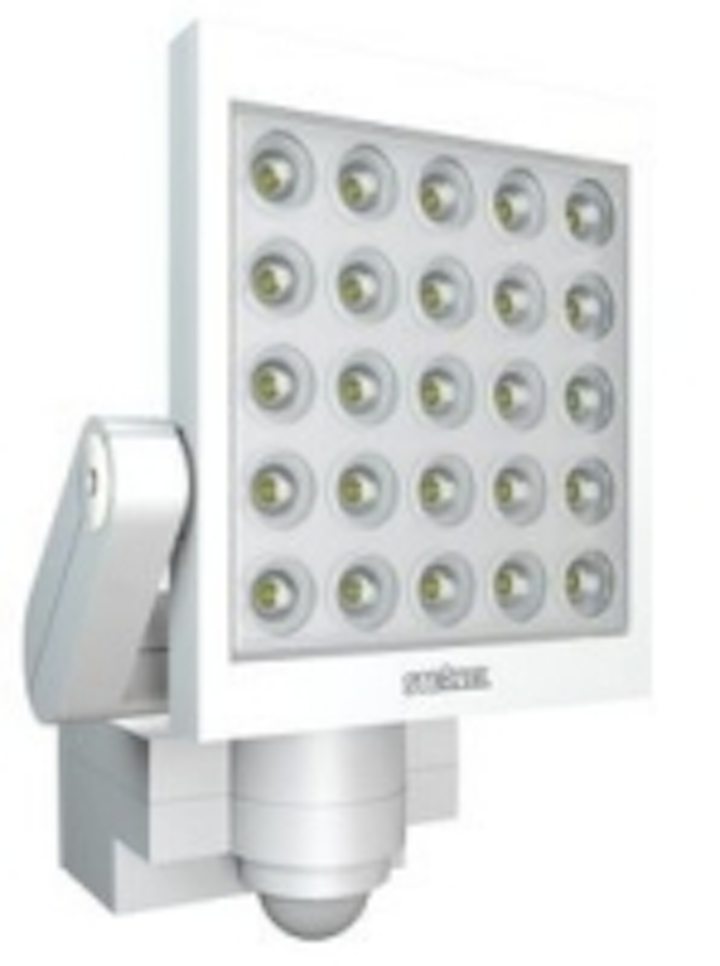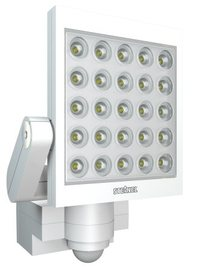 Date Announced: 02 Jun 2009
HERZEBROCK-CLARHOLZ, GERMANY AND SAN JOSE, CALIFORNIA — Steinel, a German manufacturer of intelligent lighting fixtures, has introduced its XLed range of security floodlights powered by LUXEON Rebel LEDs that use one-third of the energy consumed by conventional floodlights.
The XLed is available as the XLed 25, with 25 LUXEON Rebel for very high luminous flux and total power consumption of about 60 watts, and the more compact XLed 10 with 10 LUXEON Rebel and total power consumption of approximately 25 watts.
Product details in English and German can be found at
www.steinel.de/en/produkte_fuer_fachkunden/neuheiten_fh/xled_25
.
To extend the energy-saving benefits of the LUXEON-based XLed fixtures, Steinel incorporated a wide-angle motion sensor for use in security applications. An electronic control unit switches the floodlight on instantly at full power when a human body is detected, but turns it off after a period of time or reduces light output to 10% of maximum, as decided by the user.
"The LUXEON Rebel LEDs are very temperature-resistant. In product development we tested many different LEDs, and we found that the Philips Lumileds LEDs were the best for our application. Thanks to this and to our design and manufacturing expertise, we think we have the best LED floodlight on the market," said Thomas Möller, Managing Director of Steinel.
The LUXEON Rebel white LEDs used by Steinel are ideally suited to the XLed, where the requirement is for a bright and compact light source that delivers high efficacy and offers a long operating lifetime.
The LUXEON Rebel LEDs used in XLed are robust even in the most demanding operating conditions. XLed is designed to operate at full power for sustained periods and carries a warranty for a 50,000-hour operating lifetime – 45 years at three hours' use per day.
Philips Lumileds leads the industry in the production of high-efficiency power LEDs, most recently introducing the LUXEON Rebel ES, the world's first power LED that is specified to deliver 100 lumens per watt at 350 mA.
About Steinel
Steinel manufactures technology for people: intelligent lights and sensors that make our lives safer and easier. 'Made by Steinel' stands for user friendliness, great value for money and, what's more important, a long service life. Since 1959, this approach has allowed Steinel to become a market leader. Today, we develop and manufacture products of world renown at 6 locations in Europe, to German quality standards. More at www.steinel.de/en.
About Philips Lumileds
Philips Lumileds is the world's leading provider of power LEDs for illumination solutions. The company's leading light output, efficacy and thermal management are direct results of the ongoing commitment to advancing solid-state lighting technology and enabling lighting solutions that are more environmentally friendly, help reduce CO2 emissions and reduce the need for power plant expansion. Philips Lumileds' LUXEON LEDs are enabling new solutions for shop lighting, outdoor lighting, office and school lighting, and home lighting. More information about the company's LUXEON LED products and solid-state lighting technologies can be found at www.philipslumileds.com.
Contact
Heather Kelly, SSPR, heather@sspr.com +1 719-634-8274 Tracy Annandale, TKO, tracy@tko.co.uk +44 (0)1444 473555
E-mail:heather@sspr.com
Web Site:www.philipslumileds.com